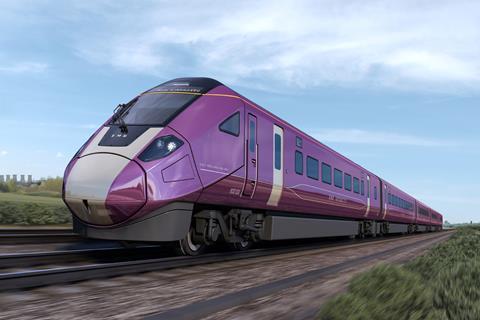 UK: East Midlands Railway has released final details of the interior layout and seating for its future Class 810 Aurora inter-city trainsets, as construction of the first trainset gets underway at Hitachi's Newton Aycliffe factory.
Although derived from the Class 80x AT300 designs already in service, the Aurora trainsets are now being seen as a new product.
The 33 five-car sets being financed by Rock Rail for use by EMR will be formed from 24 m rather than 26 m long vehicles in order to allow a 10-car train to fit into the platforms at London St Pancras.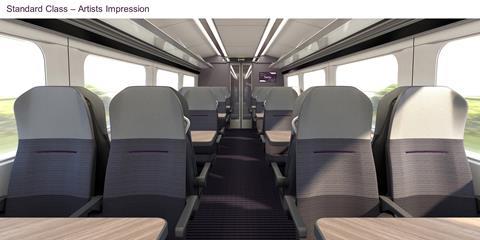 Other design changes including a slightly different cab and front lighting, larger passenger information screens, heated flooring instead of bodyside heaters, new designs of luggage stacks, overhead racks capable of holding 'airline cabin bag' luggage, and an increase in onboard toilets with two accessible and two standard units per train.
The centre car of the electro-diesel trainsets will hold the transformer, with the other four cars having engines rated at 735 kW, rather than the three 700 kW engines used in other five-car AT300 sets. This means that even under diesel power the units should match existing Bombardier Class 222 Meridian timings.
The diesel engines will meet the latest EU Stage V emissions standards, with much reduced NOx emissions. Traction motors will be fitted to the second and fourth vehicles, with pantographs on each of the end cars.
The first class driving vehicles will include a 3 m galley area, similar to those fitted to the TransPennine Express and Hull Trains Class 802 sets.
Relaxing in your seat
Each train will have 254 standard and 47 first class seats. EMR worked with Derby-based Dgdesign to develop an improved version of the Fisa Lean seat which has been used on the Stadler Flirt sets for Greater Anglia.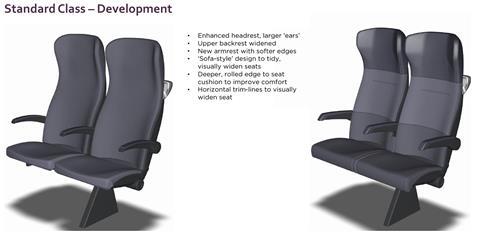 There will be 800 mm of legroom, with a more 'comfortable' seat back rake than some other new trains being partly achieved through the use of more airline seating rather than bays.
EMR confirmed that seat pitch was a source of some contention, commenting 'we were absolutely adamant about holding firm on seat pitch. It was one of our really strong things and we're really pleased with where we've ended up.'
As well as having wider wings, the seat headrests will be slightly higher; according to EMR 'you've got somewhere nice to place your head when you are relaxing in your seat.'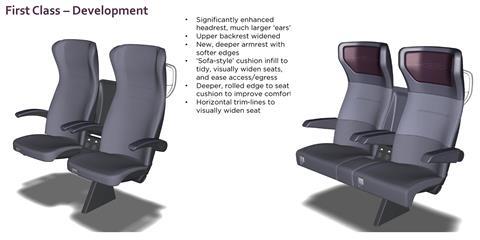 Recognising that 'what is comfortable to one person isn't necessarily comfortable to another', EMR has considered the ergonomics, centreline profile, firmness and cushions as well as the overall look of the seat, which the company notes can often affect the perception of comfort before a passenger even sits down.
While the seats and headrests are slightly larger and more sculpted, the use of horizontal trimming for the coverings will also add to a greater perception of width against the bland 'single piece of cloth' used on other new trains.
A continuous cushion across pairs of seats also gives an impression of width, and a deeper rolled edge at the front helps support the back of a passenger's legs and gives them some additional comfort.
Manufacturing
Hitachi points out that the bodyshells will be the first to be welded together from panels at Newton Aycliffe and then painted, rather than arriving already assembled. The trainsets will also feature more UK content than previous designs.
The first completed set is due to come off the production line in late summer 2021 ahead of testing.
The number of changes in the design will require a more extensive test programme, including crash testing. The manufacturer is currently identifying routes which will need to be cleared for the sets, both for regular service and also for engineering diversions.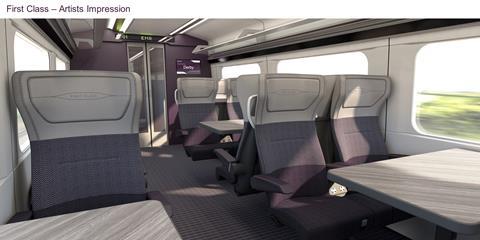 Work to prepare Derby Etches Park depot to maintain and service the new fleet will begin at the end of this year or in early 2022. An additional heavy maintenance road will be created and a new washing plant installed. Fuel road improvements with AdBlue equipment will also be delivered along with additional stabling facilities.
An automated vehicle inspection system will be installed to monitor the bogies and brakes, and a short length of 25 kV 50 Hz overhead electrification will be provided for testing over very short distances.
Work will also be carried out at Cricklewood depot, again including the provision of fuelling facilities and AdBlue recharging equipment.
Intelligent timetable
The first sets are expected to enter service in Q1 2023, and while the Covid-19 situation makes the project timing more challenging, the current aim is still to have the whole fleet in service by the end of 2023.
EMR said it was developing 'a really intelligent timetable which makes it the smoothest introduction as possible as we blend one fleet in and one fleet out'.