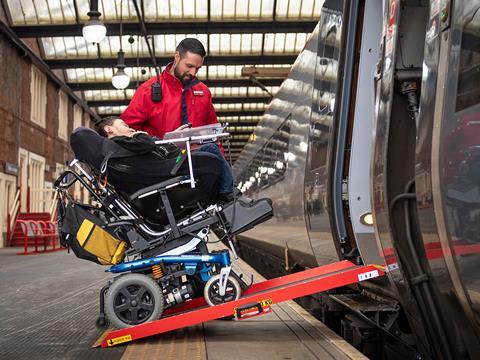 UK: The Department for Transport has announced a range of initiatives intended to remove the barriers to public transport faced by disabled people.
In the rail sector, work has begin on an audit of all stations to support the development of a public database which, along with input from disabled passengers, aims to enable people to better plan their journeys and also to help plan future investment in accessibility.
DfT will also work with Network Rail on a programme to install tactile paving on all platforms. Work is also underway to develop a Passenger Assist App to simplify communication with staff.
'Disabled passengers should be empowered to use all forms of transport with the same confidence as everyone else', said Accessibility Minister Chris Heaton-Harris on July 28. 'Today's measures will have a positive, real-life impact and double-down on our promise to building back fairer from Covid.'
'We want disabled people to feel confident on their train journeys and the measures to improve customer information and install tactile paving will help to achieve that', added Rail Delivery Group CEO Jacqueline Starr. 'We will support the government's strategy while continuing to develop our new Passenger Assistance app as part of our ambition to make train travel accessible and inclusive to everyone.'
Anthony Smith, CEO of independent watchdog Transport Focus, said 'it is important that transport operators seek the views of disabled people to make sure services better suit their needs as the country recovers from the pandemic. These measures will help remove barriers and improve access for all transport users.'
'Currently disabled people make fewer trips by public transport and are less likely to find it easy to access public transport than non-disabled people', argued RMT General Secretary Mick Lynch. 'It is therefore clear that urgent government action is needed to make all forms of public transport truly accessible, yet it is actively pursuing policies across that will only make public transport less accessible for disabled passengers.'