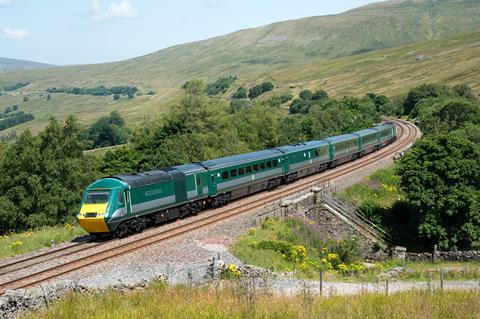 UK: Rail Charter Services has been forced to scale back its 'Staycation Express' services on the Settle – Carlisle line, after passenger numbers were lower than expected and rolling stock and catering issues emerged during the first few weeks of the 2021 season.
Ridership was high last year, with the service attracting national coverage on BBC News and a heavy demand for days out following the worst of the pandemic. However media exposure was lower this year, and a planned co-promotional initiative with Northern was scuppered by the Department for Transport's refusal to allow train operators to undertake marketing or promotional activities.
Weekday services have been loading well this year, particularly the 11.18 from Skipton to Carlisle and the 15.09 return, but some Sunday services have carried fewer than 30 passengers.
As a result, RCS has decided to withdraw the Sunday service. The operator also reports disappointing numbers on the 09.40 from Appleby to Skipton and 17.17 return. It said the inability to start and finish these journeys at Carlisle due to a lack of platform capacity, had significantly dampened demand.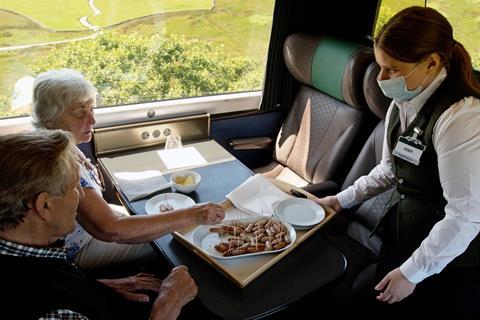 'We're really struggling and everything has been against us this year, RCS director Adrian Quine told Rail Business UK. 'The promotion and marketing was due to start in Easter and the "pingdemic" due to Covid-19 has been a killer for us, with real catering supply issues as onboard catering and booking agency staff were affected. Every issue we've had has been down to third parties not delivering for one reason or another.'
Despite significant overhaul work, it is understood that some catering equipment needed further attention, whilst the way the set has been marshalled, coupled with the need to maintain a level of social distancing despite the removal of many restrictions, forced some compromises to ensure that queues for the buffet did not impact on the 'at seat' section.
As a result the number of seats available for at-seat catering was reduced to just 16. These proved popular, being sold out on many trains, and RCS said that if more seats had been available they would also have sold.
'Last year went swimmingly by comparison', said Quine. 'It has been incredibly challenging this year but we are pleased to see that numbers are picking up on the two main trains and the whole operation has become much more slick.'