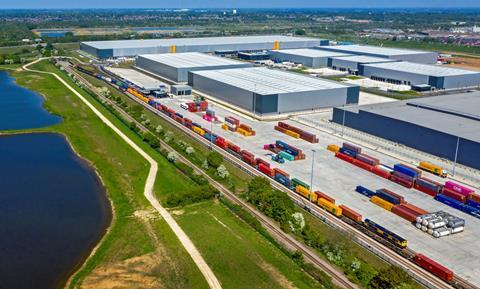 UK: The iPort Rail terminal in Doncaster has opened facilities enabling goods to clear customs before or after rail transport through the Channel Tunnel, helping shippers to avoid road and port congestion.
'Being able to clear customs in Doncaster should be a greater incentive for businesses to consider Channel Tunnel rail services for getting their goods into and out of Europe', said iPort Rail Managing Director Steve Freeman on June 21. 'As well as reliability and sustainability factors, shorter journey times outside customs controls and the ability to store bonded goods can be an advantage.
'In time we hope to co-ordinate our services with partners in the new freeports but until then, our new customs facility can operate independently and is ready to start helping businesses immediately.'
iPort Rail opened three years ago as part of the iPort multimodal hub being developed by Verdion, and now has eight daily rail services moving around 500 containers per day to and from seaports.
iPort Rail has secured HMRC Authorised Economic Operator status, and the customs facilities which opened in May include temporary storage where inventory-linked goods under customs control can be held until they are released to free circulation, with duties charged on release, as well as an area for the UK's Border Force to examine and take account of goods.
'Becoming the UK's first Strategic Rail Freight Interchange to become a rail customs area shows how iPort Rail is continuing to set new benchmarks for the industry', said Phil Smart, Assistant Policy Manager at the Rail Freight Group. 'This investment will help businesses become more sustainable by switching to rail, and it is vital that this is matched by investment in capacity and capability of the rail network as we look to decarbonise supply chains.'