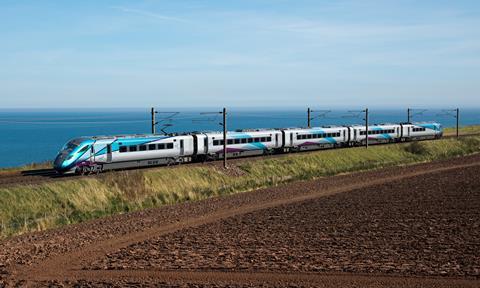 UK: LNER and TransPennine Express have begun public consultation over plans to change timetables and service patterns on the East Coast Main Line from the May 2022 timetable.
LNER says its proposed new timetable 'builds on over a decade of planning and investment' in Azuma trains and infrastructure modernisation, and aims to provide more services and more seats, with reduced journey times and high levels of reliability to make rail 'an even more sustainable alternative to air and road'.
The proposed timetable would see LNER's five trains per hour into and out of London King's Cross increase to six, with 39 additional services operating on weekdays and enhanced timetables at weekends. London – Newcastle services would be around 10 min faster. LNER also says that it is 'putting in a building block for a regular Middlesbrough service once local infrastructure work is complete'.
The consultation says that the proposed timetable 'has been developed by Network Rail with all train and freight operators on the East Coast Main Line', which has involved 'balancing long-distance, high-speed, regional and local services, alongside the needs of the rail freight sector'.
However, industry sources have suggested that the process is being pushed through 'at pace', with pressure for rapid change being led by the Department for Transport and Treasury.
TransPennine Express complications
For TransPennine Express the consultation is more complicated as its contingent rights to operate between Newcastle and Edinburgh are due to lapse with the December 2021 timetable change. This was confirmed by ORR in a letter of April 26 regarding the 38th Supplemental Agreement between Network Rail and TPE, This letter also confirmed that some of TPE's other contingent rights, including some paths between York and Newcastle, will only be extended from December 2021 until May 2022.
This has led to TPE beginning the process to explore new service opportunities and to make proposals for some services to operate on the northern section of the ECML, partly driven by the fact that maintenance of the fleet of 19 Class 802 bi-mode trains is undertaken at Edinburgh's Craigentinny depot. TPE has pointed out that if it is unable to run passenger services over the route it will still need empty stock moves which will require track capacity at a significant cost to the business.
In the letter to stakeholders, TPE explains that a number of changes are proposed by the Event Steering Group, a rail industry panel led by Network Rail·. It states that 'we worked hard with ESG, Network Rail, Department for Transport, Transport for the North, Rail North Partnership, Transport Scotland and other train operators to seek the retention of all services and connectivity in place at December 2019 in the May 2022 timetable. While that work does see some timetable improvements, there are also some service reductions as a result', the letter says.
'The overall effect of the changes being made is something that we, the industry and our sponsors at Transport for the North, Rail North Partnership and the Department for Transport are acutely aware of and will be acting on.'
TPE said the industry recognises that some passengers will see service levels and connectivity reduced, and it is looking at new service options from May 2023 and seeking feedback as it develops proposals for the reshaping of its network.
In summary, it explains that the core changes in May 2022 will be:
the Edinburgh Waverley – Liverpool Lime Street via York hourly service will be amended to operate Newcastle – Liverpool Lime Street;
the Newcastle – Manchester Airport hourly service will be amended to operate York – Manchester Victoria;
calls at Chester-le-Street would be increased, some southbound calls at Northallerton removed, and calls at Garforth transferred to a Northern service;
subject to infrastructure work, the Manchester Airport – Redcar service would be extended to Saltburn;
subject to discussions and funding, a limited Newcastle – Edinburgh Waverley service could be introduced calling at Reston (planned to open before the May 2022 timetable change) and Dunbar.
Additional information includes a note that the planned one-year only withdrawal from December 2019 of calls between Manchester Victoria and Manchester Airport on the Newcastle – Manchester Airport service will continue, with the Newcastle – York portion of this service also being withdrawn from May 2022.
This means an overall reduction from two to one train per hour operated by TPE from Newcastle, Durham and Darlington to York, Leeds, Huddersfield and Manchester. It will also mean that services over the £85m Ordsall Chord will remain permanently at one train per hour.
TPE also notes that DfT and Transport Scotland are looking at how Reston and Dunbar stations will be served, with the confirmation that the three CrossCountry trains expected to call at Reston will do so by effectively transferring calls from Dunbar. Two options are being developed to ensure Dunbar will receive the overall service level that was operating in December 2019; the first is for TPE to run some shuttles from Newcastle or Berwick-upon-Tweed to Edinburgh calling at Dunbar and Reston; the second option is for ScotRail to run some extra shuttles between Edinburgh Waverley and Dunbar, although it is 'unlikely that resources to operate this can be found before May 2023'.
TPE concludes 'longer term for May 2023 we are investigating if an alternative plan might be better with a regular Edinburgh Waverley – Berwick-upon-Tweed shuttle every two hours, calling at both Dunbar and Reston, to be operated for Transport Scotland by one of the operators on the route'.
Meanwhile, FirstGroup confirms that its new open access operator First East Coast Trains Ltd is on course to launch its service of five trains per day between London and Edinburgh in October 2021.
CrossCountry additions
The ECML timetable consultation also impacts on CrossCountry, with some service times to change and calls at Northallerton to be added to many trains to replace connectivity lost when TPE services are reduced.
Calls at Dunbar will be reduced as Reston station opens, and the times of trains service either Alnmouth or Morpeth will also be amended. Some service patterns and calls further south on the CrossCountry network will also change as a result of changed paths on the ECML.
CrossCountry also recognises the challenges at Reston and Dunbar where it notes that 'if possible a fifth daily service for Reston will be provided in one or both directions', but adds 'the structure of the timetable means that CrossCountry trains can only make limited calls at either Dunbar or Reston and they cannot serve both stations.'