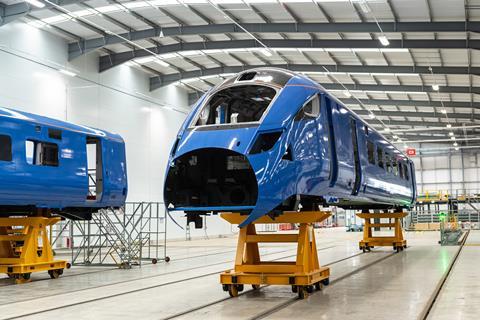 UK: Production of the five Class 803 trainsets which FirstGroup subsidiary East Coast Trains has ordered for its future London to Edinburgh open access service is underway at Hitachi Rail's Newton Aycliffe factory.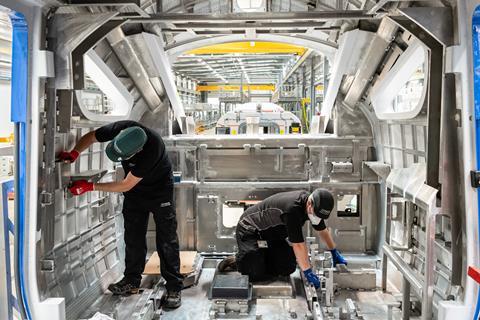 Hitachi said the scope of the work undertaken at Newton Aycliffe has been expanded from the previous Class 80x-family fleets it had delivered, with the factory producing the trainsets 'from empty aluminium shells'.
'Building these East Coast Trains signifies a new and exciting chapter for Hitachi Rail's UK factory', said Ross Nagle, the manufacturer's COO Rolling Stock UK. 'It is an important step as we increase our manufacturing capabilities and upskill our workforce at Newton Aycliffe, including investing £8·5m in new welding and painting facilities. The increased skills of our workforce makes us well placed to deliver a number of highly significant orders over the next 12 months, and consolidate our place as a strategic northeast manufacturing hub.'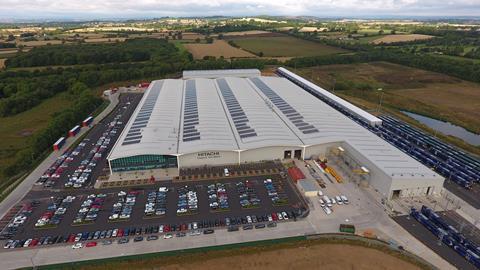 The five five-car Type AT300 trainsets for 25 kV 50 Hz operation were ordered in March 2019, and financed by Beacon Rail Leasing Ltd in a £100m 10-year deal.
The 200 km/h trainsets are similar to Hull Trains' new Paragon Class 802 fleet, but will not have the diesel capability, and will only provide standard class accommodation.
East Coast Trains now expects to begin carrying passengers between Edinburgh and London from autumn 2021. The open access operator is aiming to offer passengers a high quality, cost effective and more sustainable alternative to flying or long-distance coaches, rather than to compete head on with LNER's existing InterCity East Coast services.