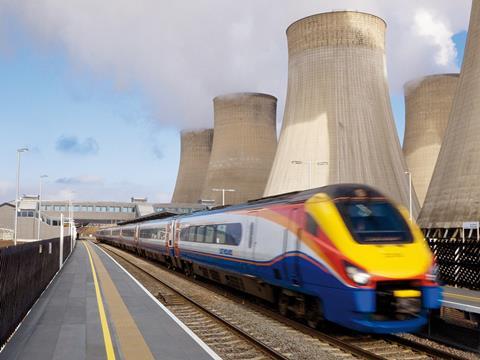 UK: The invitation to tender for the next East Midlands passenger franchise was issued by the Department for Transport on June 7, with bids to be submitted by September 5. The franchise covers the operation of Midland Main Line inter-city services linking London St Pancras with Leicester, Nottingham, Derby and Sheffield, as well as a network of connecting regional routes.
DfT is seeking 'ambitious and innovative bids which are also deliverable'; in the light of recent problems at other franchises it has amended the financial robustness test to be used. 'A new collaborative partnership' between the operator and infrastructure manager Network Rail is expected to deliver improved performance.
Specific requirements in the ITT include the introduction of 'newly-built' rolling stock on inter-city services between London, Sheffield and Nottingham by the end of 2023. Following the government's decision to cancel the Midland Main Line electrification, the trains must be capable of operating in electric mode where suitable infrastructure exists and in 'another mode' on non-electrified routes or 'for the whole journey if necessary'. Peak journey times between Sheffield, Nottingham and London are to be reduced. There must also be an increase in service frequencies, with earlier starts, later finishes and more Sunday trains.
An additional Corby – London train every hour is to be introduced, with a 'dedicated, high quality' London – Corby service to be operated using EMUs once the current electrification works have been completed by December 2020. However, the lengthy Liverpool – Nottingham – Norwich route is to be split, with the Liverpool – Nottingham section potentially handed to another operator in future. All trains are to be fitted with 'high quality' wi-fi and mobile phone connectivity.
DfT is looking for 'active innovation' in ticket fulfilment options, including barcodes, print-at-home and smart cards. Delay compensation is to be enhanced, with the cut-off for payments to be reduced from 30 to 15 min.
'We have listened carefully to what thousands of passengers and stakeholders have said they want to see in the next East Midlands franchise', said Rail Minister Jo Johnson. 'We expect the next operator to unlock the unrealised potential while building on its stable foundations.'
Abellio, Arriva and incumbent Stagecoach had previously qualified for the ITT, along with a joint venture of FirstGroup and Trenitalia which subsequently withdrew from the competition. With bids due by September 5, DfT expects to announce the preferred bidder in spring 2019. The franchise is due to run from August 18 2019 until August 22 2027.
DfT is being supported in the procurement process by technical adviser Atkins, financial adviser Grant Thornton UK and legal adviser Eversheds Sutherland (International).
DfT has opened a 12-week public consultation on the requirements for the next Cross Country franchise. The current contract held by Arriva is due to end in late 2019, although it can be extended by up to a year. Passenger Director of watchdog Transport Focus David Sidebottom said Cross Country passengers' priorities for the franchise were 'the ability to get a seat on frequent, punctual services that provide better value for money', along with free and reliable wi-fi.