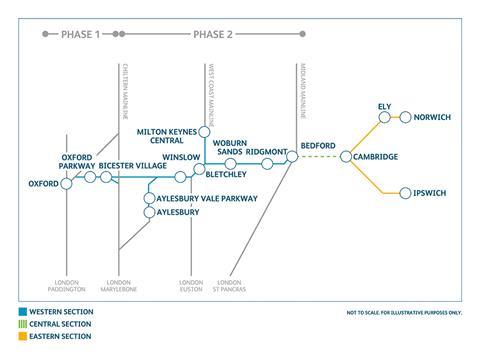 UK: 'We can build it quicker and cheaper, but what is "it"?', East West Rail Chairman Rob Brighouse asked on April 25, as he addressed the All-Party Parliamentary Rail Group. Clarity on what 'it' is should drive the business model chosen to implement the project that would eventually create an 134 km rail corridor between Oxford and Cambridge, he said.
'To my mind it is an economic project, not a railway project', said Brighouse. 'A mistake we often make in the rail industry' is to confuse economic need with what is best from an operating perspective, he felt.
Having stepped down as Managing Director of Chiltern Railways, where innovative financing methods had been used to deliver enhancements under the Evergreen programmes, Brighouse was appointed as a Non-Executive Director of Network Rail. NR Chairman Sir Peter Hendy then asked him to examine ways of reducing the cost of East West Rail, later established as a separate organisation to provide 'contestability' in the rail infrastructure market and examine the potential for attracting private-sector investment.
Brighouse told APPRG that he had initially thought there might be a conflict of interest between his role at NR and that at East West Rail. Hendy had reassured him that he was seeking 'radical thinking' to avoid the 'endless iteration' and mission creep which has been blamed for the major cost increases often experienced by NR enhancement projects.
Preliminary proposals for developing East West Rail were submitted by Brighouse to the Secretary of State in March, and more detailed reports are to follow in June. It is envisaged that expressions of interest in taking the project forward could be invited from the supply market by the end of this year.
The current focus is on the western section of the route, using existing or currently disused infrastructure, with an Oxford — Bedford service planned for 2024. Brighouse envisages that this could be brought forward to 2022.
The eastern section is more complicated, as the alignment between Bedford and Cambridge has in places been lost to development. However, corridors have been identified and Brighouse hopes that the very approximate opening date of 2030 for this section could be brought forward significantly.
'We as an industry have lost the culture of challenging costs', Brighouse said, adding that the key to reducing them is a change in culture. He believes that service requirements should drive the infrastructure specification, and in his view the region between Oxford and Cambridge needs a '90 mile/h suburban railway connecting houses to jobs'.
As such, the focus should not be on inter-city services or providing part of long-distance routes 'such as Reading — Newcastle', said Brighouse. 'It's not about getting from Oxford to Cambridge faster', he said. 'It is about having the right number of stops'.
Electrification is no longer considered necessary, and junctions with existing north-south routes would be provided to meet operational requirements rather than improve network connectivity. To reduce costs and ensure 'absolute clarity of purpose as to why we are building this railway', there would be no provision for freight, and if this were to be added it should be funded separately, rather than subsumed into the passenger project. This contrasts with previous proposals that had seen East West Rail as part of an Electric Spine for freight, connecting the Midlands and the north of England with the port of Southampton.
To build East West Rail, maximum use should be made of permitted development rights, rather than the Transport & Works Act process, Brighouse believes. A range of funding options are being considered with a view to attracting private finance, and new stations should be located to attract the support of property developers.
East West Rail has been suggested as a pilot for vertical reintegration. Brighouse emphasised that this was 'a possibility but not an end in itself', and stressed that he was 'not wedded to NR being the developer'.
Initial discussions with potential investors and suppliers had demonstrated that the market understands that East West Rail was different to NR's traditional model, he reported, and potentially better suited to attracting privatesector investment. Potential participants might favour separating the infrastructure design, finance, construction and maintenance from the train operating element of the project. Informal discussions with the franchise owning groups had suggested that East West Rail would be large enough to be viable as a self-contained franchise. Alternatively, it could be combined with the Chiltern, West Midlands or East Midlands franchises or Great Northern.
'I want to go with the what and not the how', said Brighouse in summary. 'As soon as we get into how, we should get the private sector involved. We should say what we want to achieve and let the market come to us with innovative ideas.'