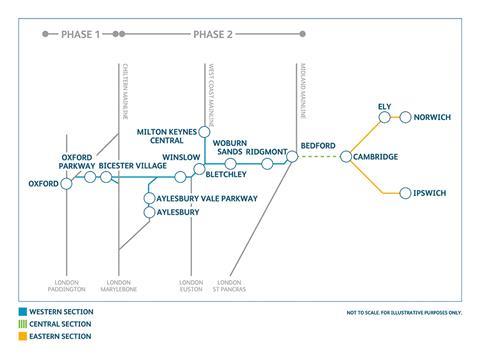 UK: Network Rail has submitted an application for the legal powers which would enable it to go ahead with the second phase of the East West Rail project to reinstate a rail corridor between Oxford, Bicester, Milton Keynes, Bedford and Cambridge.
Phase 1 between Oxford and Bicester was completed in December 2016. Phase 2 covers major track and signalling upgrading works between Bicester, Bedford, Aylesbury and Milton Keynes, including reinstatement of the mothballed line between Bletchley and Claydon Junction.
Major works for Phase 2 could begin in 2019, subject to the government granting the Transport & Works Act Order.
Completion would enable the phased introduction of passenger services from Oxford to Milton Keynes, Oxford to Bedford and Milton Keynes to Aylesbury.
'The submission of the Transport & Works Act Order is a culmination of four years of work developing the scheme and follows three positive rounds of community consultation, where we've continually refined our proposal based on the views of the community and planning experts', said Colin Murphy, head of Consenting & Environment for Network Rail, East West Rail, on July 27.
Proposals for Phase 3 of the project which would extend the route from Bedford to Cambridge are currently under development.
'We now need the route between Bedford and Cambridge to be confirmed as soon as possible, so that delivery of the full scheme can be achieved within the government's stated target of the mid-2020s', said Dave Hodgson, Chair of England's Economic Heartland's Strategic Transport Forum
In parallel with the submission of the Transport & Works Act Order application, additional responsibilities for project delivery have been allocated to East West Railway Co, a non-departmental public arm's length body set up by the government to promote the scheme.