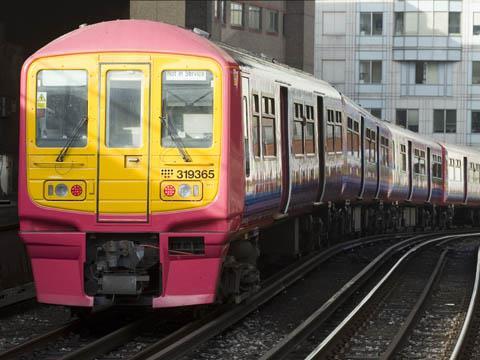 UK: Leasing company Porterbrook is to supply Rail Operations Group with two Flex electro-diesel multiple-units equipped to carry postal and other just-in-time light freight traffic. Delivery is planned for early 2020.
The trains are to be rebuilt from Class 319 EMUs formerly used on Thameslink passenger services, and will be equipped with diesel engines to enable through running onto non-electrified routes. Porterbrook is undertaking similar Class 769 Flex conversions for passenger use by Northern, Transport for Wales and Great Western Railway.
Announcing the agreement with ROC on January 7, Porterbrook said increasing road congestion, a shortage of lorry drivers and the rapid growth in online shopping had led many shipping firms to explore the use of rail, but there was a lack of suitable trains.
'We are excited be breaking new ground with ROG as we both move into light parcel logistics for the first time', said Porterbrook CEO Mary Grant. 'The UK's light logistics sector is experiencing huge changes and we're delighted that we can support the sustainable solution on the rail network. Porterbrook is particularly pleased that ROG has recognised the potential for non-passenger use of our innovative Flex trains and over coming months we will be exploring further opportunities to support the successful UK rail freight sector.'
ROG intends to make the trainsets available for exclusive use by one shipper or for shared use by multiple shippers depending on users' day-to-day requirements and deadlines. CEO Karl Watts said 'the time is right' for a modal shift from road to rail, with a 'huge opportunity to re-establish a comprehensive network of express parcels trains and help reduce the number of commercial vehicles on UK roads.'
ROG and leasing company Beacon Rail are negotiating a planned order for Stadler to supply a fleet of 10 locomotives equipped to use 25 kV 50 Hz, diesel or battery power. Watts told Railway Gazette the process had taken longer than anticipated, but he hoped a contract for the Class 93 locos would be signed this month.