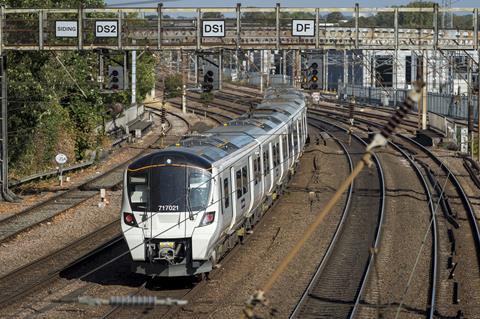 UK: In a major step for the East Coast Digital Programme, the ETCS Level 2 signalling and train control equipment on the Northern City Line between Finsbury Park and Moorgate was commissioned over the May Day bank holiday weekend.
The conversion is a key element in the East Coast Digital Programme, which covers around 160 route-km at the southern end of the East Coast Main Line, and will ultimately see conventional lineside signals removed from much of the route. The NCL was selected as a pilot phase for the ETCS roll-out, in order to eliminate the life-expired signalling and mechanical train stops dating from the conversion of the former London Underground line which became part of the national rail network in the mid-1970s.
The six-car Class 717 EMUs supplied by Siemens Mobility to operate Great Northern inner suburban services from Moorgate to Welwyn Garden City and Hertford East were already fitted with ETCS onboard equipment to the Baseline 3.4.0 specifications, which have been adopted for ECDP. One unit was tested on the nearby Thameslink core in September 2021 to demonstrate backwards compatibility with the Baseline 2.3.0d trackside equipment used on that route.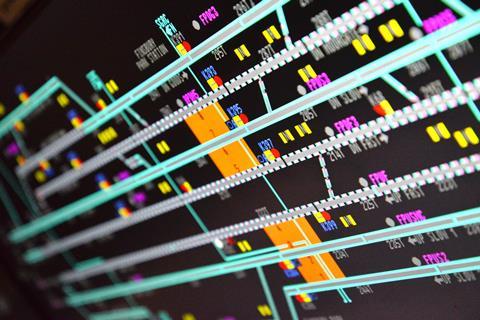 The commissioning weekend saw the installation of Train Protection & Warning System in the tunnels as a replacement for the mechanical train stops, paving the way for testing with ETCS fitted trains to start later this month. Driver training is scheduled to begin in early 2023, before revenue operations switch over to the cab signalling. All trains are expected to be operating using ETCS by 2024, after which the conventional signals will be removed.
Describing the commissioning as 'an important step forward in the wider East Coast Digital Programme', Network Rail Director Toufic Machnouk said 'the deep partnership we have forged for the Northern City Line project is breaking the traditional boundaries in the way we work as an industry to deliver greater benefits for passengers.'
'This commissioning marks the start of a roll-out of modern train control technology that provides a far more efficient and reliable railway', explained Mark Ferrer, Rail Infrastructure Operations Director at Siemens Mobility. The partnership approach had enabled the train control supplier 'to collaborate with other industry partners to efficiently define and develop the agreed scope and design to be able to deliver the engineering that led to the successful commissioning'.
Thameslink & Great Northern Managing Director Tom Moran added that the 'tried and tested' signalling on the NCL 'had reached the end of its life and often failed, causing regular disruption to our customers'. He anticipated that 'after a bedding-in period', the new signalling would 'greatly improve reliability'.