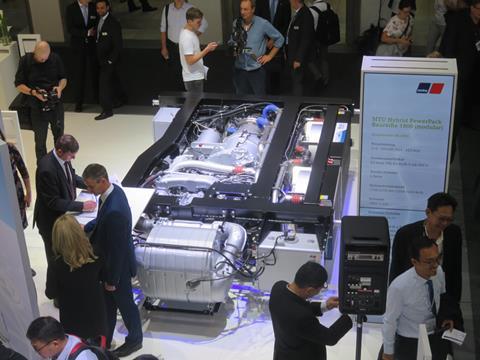 EUROPE: Contracts have been signed for Rolls-Royce to supply nine MTU Hybrid PowerPacks to Ireland's Iarnród Éireann and four to UK leasing company Porterbrook.
The firm orders announced on April 16 follows letters of intent announced at InnoTrans 2018.
The Hybrid PowerPacks are to be delivered between May 2020 and the end of 2021, and will enable the end users to evaluate the possible conversion of significant parts of their diesel multiple-unit fleets to hybrid operation.
The Hybrid PowerPack combines an MTU diesel engine meeting EU Stage V emissions standards with an electric unit that can function as motor or generator and an EnergyPack battery that stores energy regenerated during braking.
Battery-powered operation with zero local emissions is possible, or the stored energy can be used to boost acceleration to reduce journey times.
Rolls-Royce said the hybrid drive can reduce traction noise by around 75% in stations, with fuel consumption and CO2 emissions cut by up to 25%, and brake pad and disc costs lowered.
Jürgen Blassmann, Head of Rail Business at Rolls-Royce Power Systems, said the first orders were 'a milestone' as the company changes from being a diesel engine and PowerPack manufacturer to focusing on more sustainable traction systems.