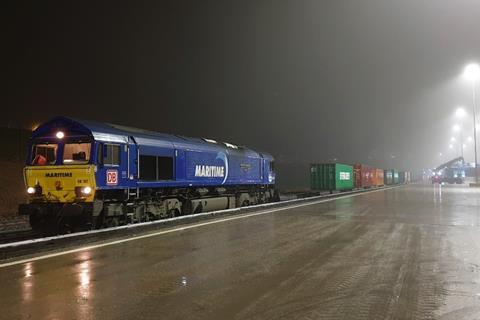 UK: DB Cargo UK operated the first commercial rail freight service to the new East Midlands Gateway Terminal in Castle Donington on January 7.
The Strategic Rail Freight Interchange has been developed SEGRO and is operated by Maritime Transport under 25-year lease signed last year
DB Cargo UK's service from the Port of Felixstowe will operate five times per week. 'We are delighted to be operating this service to what is one of the UK's newest and most modern rail freight facilities', said CEO Hans-Georg Werner. 'We now operate seven routes for Maritime Intermodal and it's great to see our partnership grow from strength to strength since we launched it back in April 2019.'
The terminal is capable of handling up to 16 trains/day of up to 775 m in length, and has space to store more than 5 000 TEU.
Planning permission has been granted for a three-storey office that will act as a headquarters for Maritime's rail subdivision, as well as for a maintenance facility where it will undertake container and trailer servicing and repairs.
The rail service 'represents a brilliant opportunity and offers our customers a greener, more flexible solution for the movement of their goods', said John Bailey, Maritime's Managing Director, Intermodal & Terminals. ''We're delighted to be extending our rail offering with this new service, our first of many at EMG which is set to open a new intermodal market for the industry, increasing productivity and removing truck miles from the Midlands' major routes.