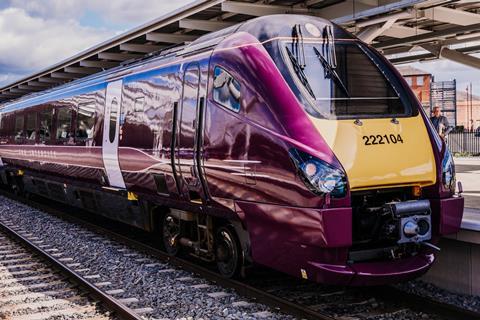 UK: The use of RFID tags to identify individual vehicles with wheel flats is being rolled out across East Midlands Railway's fleet after a trial found it saved hours of staff time.
Around 50 Class 153, 156, 158 and 222 vehicles were equipped with RFID tags from CoreRFID in 2018, enabling the operator to know exactly which vehicles had triggered wheel flat alerts from monitoring equipment. The roll-out will now be extended to the operator's whole fleet, including Class 170, 180 and 360 multiple-units. One RFID tag is installed on each side of the vehicle, with readers fitted at strategic points on the track.
'Before installing RFID tags, each time we received an alert we would just have the headcode and would have to check on the diagram sheet to see what unit was used on that journey', said Paul Caffrey, EMR's Fleet Engineering Manager. 'It could take a lot of working out — and if there had been disruption on the line and trains had been swapped, there was a chance we would identify the wrong vehicle.
'After fitting the RFID system, we now receive the number of the carriage from Network Rail, so instead of having to do a manual trawl, we can book it in straight away for remedial action. It saves up to an hour each time and ensures we always have accurate information.'