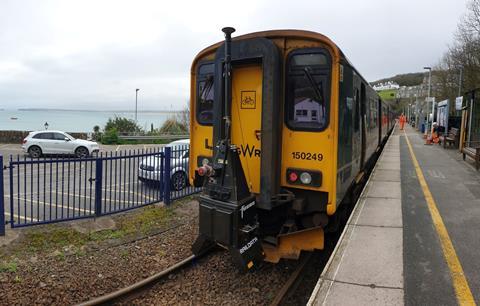 UK: Network Rail has awarded Fugro a contract to undertake an asset and track position survey covering almost 1 600 route-km on its Western Route in England. This follows similar work in Wales during 2019.
The capture of data on an estimated 97 % of all track and lineside structures aims to provide a holistic and accurate view of the network to support a gauging programme and validation of track position.
The processed data will provide a 'geodetic backbone' that can be used for a range of maintenance applications, including topographical survey extraction, determination of heights and staggers on sections of electrified routes, vegetation analysis, ballast profiling and ballast volume validation.
Data will be collected using Fugro's RILA train-mounted surveying technology which will be mounted on passenger trains in collaboration with operator Great Western Railway. To ensure survey work can continue while services are reduced during the Covid-19 outbreak, some parts of the survey will be carried out with the RILA survey unit attached to a Freightliner locomotive rather than a passenger train.
'Working with RILA will help reduce the amount of time we need to work on the track, reducing delays for passengers and freight, while also improving the safety of the railway, as engineers spend less time on track carrying out survey works', said Chris Stanley, Route Asset Data & Analysis Manager at Network Rail.