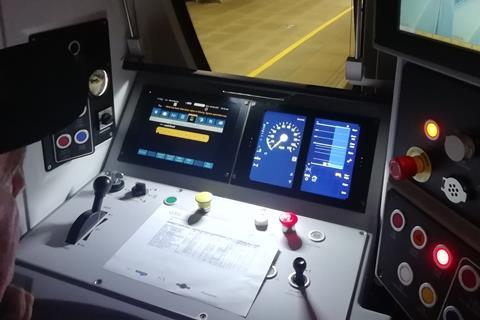 UK: The government has confirmed a £950·5m tranche of funding for the East Coast Digital Programme to deploy ETCS Level 2 on the section of the East Coast Main Line between London's King's Cross and Stoke Tunnel, south of Grantham.
The funding announced by Secretary of State for Transport Grant Shapps on June 29 will enable Network Rail to install lineside equipment, and train operators to install onboard systems across the 160 km route. Conventional colourlight signals are due to be removed from much of the route, although they will be retained between Peterborough and Stoke Tunnel to facilitate the operation of unfitted trains on east-west services crossing the ECML.
The Department for Transport confirmed to Rail Business UK that the latest funding comes in addition to the £350m which was released in 2020 to commence preparatory works for the ECDP.
Network Rail will prioritise a request for a further investment of £427m as part of its next Control Period settlement. The total cost of the programme is now expected to be just under £2bn.
DfT said more than 80% of passenger rolling stock operating on ECML South is already fitted with ETCS, including the Class 80x inter-city trainsets and Class 700 and 717 suburban EMUs. The digital signalling would be '42% cheaper' than the current signalling system over its lifetime.
Toufic Machnouk, Network Rail's Director, Industry Partnership for Digital Railway, said 'we are delighted to have been given the go-ahead for this ground-breaking programme that will transform the capability and resilience of the East Coast Main Line and be a key enabler for the wider network.
'The ECDP is uniquely bringing together all elements of track and train through a pioneering industry partnership that is working beyond boundaries in a deep collaboration. We will upskill our people and use new technology to improve the way we work for the benefit of passengers and freight customers.'
David Horne, Managing Director of inter-city operator LNER, said ETCS would allow the 'full potential' of its Hitachi-built Azuma train fleet to be realised, with users benefiting from 'even more reliable and sustainable journeys'.
Maggie Simpson, Director General of the Rail Freight Group, added that freight operators would benefit from 'a more flexible and resilient railway, unlocking future growth potential in rail freight traffic supporting both decarbonisation and economic growth'.