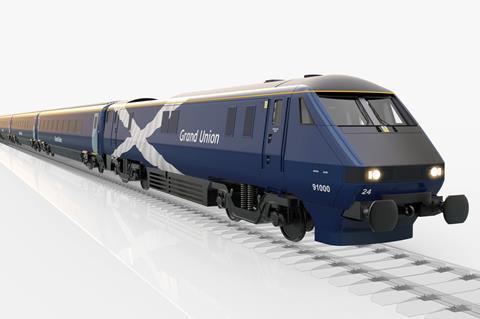 UK: Aspiring open access operator Grand Union Trains has submitted a modified Section 17 application for track access to run four trains a day between Stirling and London Euston via the West Coast Main Line. The Office of Rail & Road is seeking responses to the proposal by July 5 as part of its evaluation process.
Grand Union would operate a service of four off-peak trains in each direction from Monday to Saturday and three on Sunday, calling at Larbert, Greenfaulds, Whifflet, Motherwell, Lockerbie, Carlisle, Preston, Crewe, Nuneaton and Milton Keynes.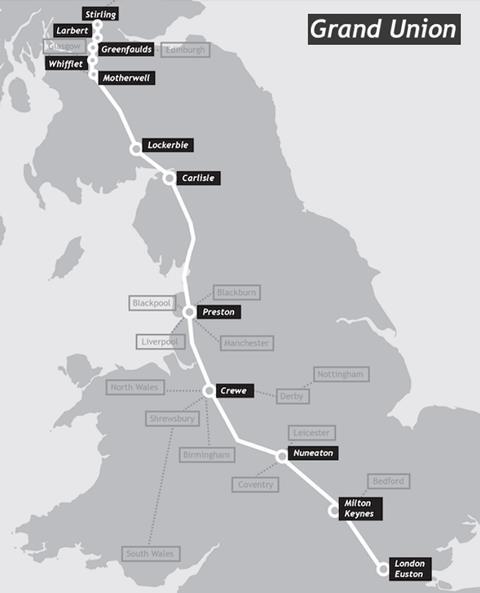 It now proposes to use rakes of nine MkIV coaches and a DVT powered by the Stadler Class 93 tri-mode locomotives to be introduced by Rail Operations Group, a change from its previous application which indicated that Class 91 locomotives would be utilised.
It is initially seeking a 10-year track access contract 'to reflect the new traction to be provided, the remaining life of the train fleet and its interior upgrades and infrastructure investment', and notes that delays to HS2 'mean longer contracts can now be considered'.
The company also states that it will 'reappraise the operation once Transport Scotland has more fully revealed its future electrification plans and the timescale for network upgrades has become clearer'.
In its application Grand Union notes that following the award of the West Coast Partnership contract, the Competition & Markets Authority instigated a Phase 1 investigation owing to the lack of competition on a number of routes from Preston northwards, as FirstGroup companies have a monopoly on a number of flows. Grand Union said its service would address some, but not all, of these competitive issues.
Grand Union intends to work with local authorities and ScotRail to discuss investment to improve passenger and staff facilities at Larbert, Greenfaulds, Whifflet and Lockerbie stations. It is also in discussions with Transport Scotland, ScotRail and local authorities regarding potential further investment.
'A new standard of travelling environment'
Promising 'a new standard of travelling environment', Grand Union says the trains would have excellent legroom, sufficient luggage space and appropriate onboard catering for the long distance journeys.
There would be a 'bespoke first class vehicle' with compartments, while standard class would have 2+1 seating to reflect 'changing views on passenger space over the short to medium term as passengers return to the railway'. A standard economy section would be provided with more traditional 2+2 seating 'for the more cost-conscious passengers', and there would be space for bicycles as well as 'vanload' freight.
A seat would be 'part of the ticket price' for journeys over 30 min, with any passengers forced to stand refunded 50% of their ticket price. Passengers would also be able to use railcards for on-train ticket purchases.
Aspirational journey times have yet to be released, but Grand Union says that it will be 'requesting that Network Rail assesses the opportunities to raise non-tilt speeds along the length of the south end of the route as has happened at the north end for TPE's new Nova 2 Class 397 trains for their Manchester Airport/Liverpool – Edinburgh/Glasgow services.' As well as reducing journey times this would also ease pathing constraints at the south end of the route, effectively providing more useable capacity for all operators.
If approved, Grand Union says that crew and route training would begin ramping up from the start of 2022 for a service start in December of that year.