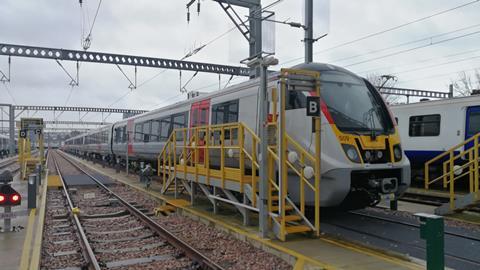 UK: The first of the Class 720 Aventra electric multiple-units which Bombardier Transportation's Derby factory is supplying for Greater Anglia's London commuter services has been delivered to Ilford depot ahead of testing.
Entry into passenger service is planned for spring this year, with the entire fleet expected to be in operation on commuter services between London Liverpool Street and Essex, Ipswich, Cambridgeshire and Hertfordshire by spring 2021.
Bombardier has now built around a third of the 665 coaches for the 89 five-car and 22 10-car Aventra EMUs which the Abellio-owned operator ordered through leasing company Angel Trains in 2016.
The manufacturer said the 'British-designed and built trains have been delayed by a range of factors, but production is now being ramped up with extra staff recruited at our Derby factory so that Greater Anglia's customers can benefit from these state-of-the-art trains as quickly as possible'.
The 25 kV 50 Hz EMUs will be longer than Greater Anglia's current EMUs, with plug and USB sockets, air-conditioning, real-time information screens, improved accessibility, underfloor heating and passenger door anti-drag safety features similar to those on London Underground trains.
'It's fantastic to have one of these new Bombardier trains now on our patch', said Ian McConnell, Greater Anglia's Franchise & Programme Director, when the first unit arrived on January 14. 'Our test drivers have been very impressed with them', he said. 'We are confident our customers will be equally pleased with the quality of the new trains, as they should greatly improve their journeys'.
The commuter EMUs were ordered as part of a programme replace the entire Greater Anglia fleet, with Stadler being awarded a parallel contract to supply electric and electro-diesel multiple-units for the operator's regional, inter-city and Stansted Airport services.