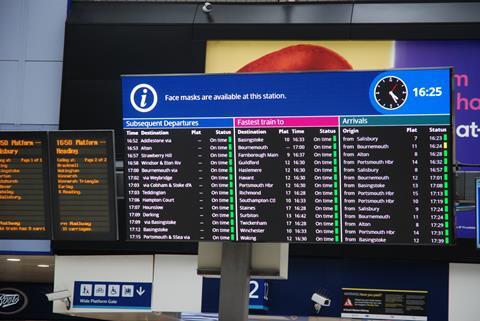 UK: Network Rail and South Western Railway are testing a 3 m wide and 1·5 m high full-colour high-definition passenger information display screen supplied by Infotec at London Waterloo station.
Network Rail said this was the first time that a full colour LED display had been installed at one of its managed stations solely to provide passenger information. The trial is scheduled to last until December.
A six-month trial of a larger 5 m x 2·5 m display is planned for London Victoria starting in late September. Depending on the outcome, similar screens could then be rolled out elsewhere.
'Accurate, real-time, and easy-to-understand customer information is critical to passengers' experience in stations and is key to putting our passengers first', said John Halsall, Managing Director of Network Rail's Southern region.