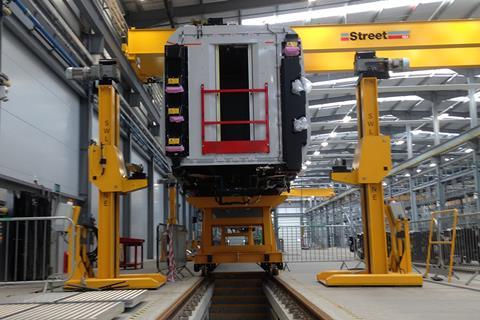 UK: Hitachi Rail has announced changes at its Newton Aycliffe factory which it said were intended to provide 'greater flexibility, agility and global competitiveness' as the production of 122 trainsets under the government's Intercity Express Programme comes to an end.
As part of the transition to a 'core workforce' model, consultation has begun on the loss of up to 250 jobs. This is intended to leave a team of 'skilled, core full-time employees', with the flexibility to recruit people on fixed-term contracts to meet demand from future orders. There may be opportunities for some staff to be redeployed to other parts of Hitachi's rail business.
There will also investment to increase the scope of the work which can be undertaken at the plant, which would become 'a full-scope manufacturing facility'. This would be able produce a wider range of products, including trams and metro trains as well as commuter and high speed rolling stock, and to undertake multiple projects at once.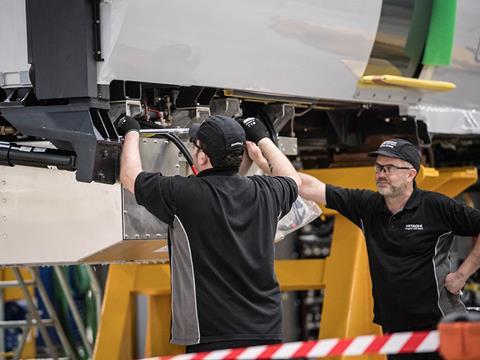 This will include a £8·5m investment in welding and painting facilities similar to those at the company's factories in Japan and Italy, with 40 staff being trained as part of a significant upskilling programme.
Stressing that the changes 'do not call into question Hitachi Rail's long-term commitment to the UK and are entirely unrelated to Brexit', the company said its aim was to put the 'successful' UK operation on a 'long-term, sustainable' footing so it could continue to win new orders.
'The cyclical nature of demand in the industry means the factory must be more flexible and agile to secure a long-term, sustainable future', said Ross Nagle, COO Manufacturing, on January 9.
The plant currently has three outstanding order orders to produce 61 Class 80x inter-city trainsets for FirstGroup's future East Coast Main Line open access operator, East Midlands Railways and Avanti West Coast, with work due to begin this year.
Responding the job losses, Unite trade union regional officer Pat McCourt called for 'radical reform' of government procurement policies, which currently mean 'major contracts for new trains are too readily awarded to overseas companies'.