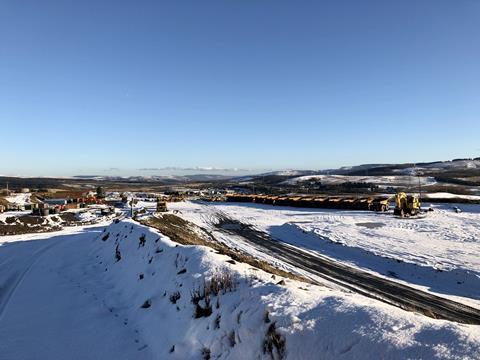 UK: The Global Centre of Rail Excellence is on course to be the UK's 'first net zero in operation railway', project promoter GCRE Ltd confirmed on April 18, when it announced an agreement with Hitachi Energy which includes the supply of a Static Frequency Converter to feed the overhead electrification equipment.
Procured through a competitive tendering process, the converter will enable the nascent railway rolling stock and infrastructure test facility make full use of renewable energy to power its planned overhead electrification.
GCRE Ltd and Hitachi Energy explained that 'the converter hardware and control software cover the special needs of railway applications. The mechanical design and containerised housing ensure the reduction of footprint, onsite risks, and installation time, while making sure components are easily accessed to facilitate maintenance and troubleshooting.'
Rail technology MoU
In addition to the SFC procurement, GCRE Ltd has signed a memorandum of understanding with Hitachi Group covering a wider rail technology partnership.
This collaboration will focus on using the test centre to develop rolling stock designs, digital signalling technology including ERTMS, and battery traction equipment, working alongside Sunderland-based automotive and industrial component specialist Turntide.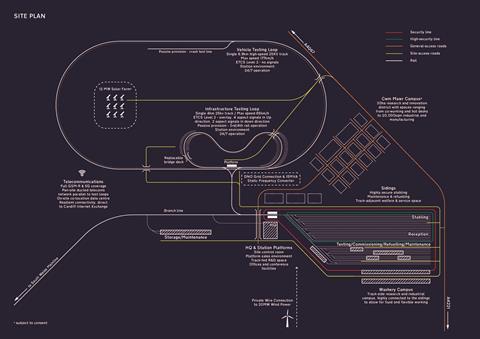 The rolling stock manufacturer now has 187 inter-city trains in passenger service in the UK which are fitted with ETCS. Hitachi and GCRE Ltd said the MoU would create 'an opportunity to test future upgrades of ETCS to ensure a seamless transition in digital signalling'.
Investment search
The GCRE facility is being built on the site of a former opencast coal mine and washery at Onllwyn north of Swansea. Promoted as a means to regenerate the local area following the end of large-scale mining, GCRE has been backed so far by the Welsh government. However, completion of the planned £400m rail R&D complex is dependent on securing external investment worth up to £330m. The promoter hopes to sell a majority stake in the project to one or more external investors by the end of 2023.
Two test loops are planned, both electrified at 25 kV 50 Hz, equipped with ETCS as well as legacy signalling and initially built as single-track rings with passing tracks. The 6·9 km outer circle skirting the perimeter of the former mine site would be used to test vehicles at up to 185 km/h. The 4·5 km inner ring would be the infrastructure test area, and would include a two-platform station.
Other facilities envisaged for the site include a university-backed research campus, a rolling stock storage facility, and a green energy hub taking advantage of the site at the head of two valleys making it well placed for wind turbine installation.
Land clearance is now underway, and the promoters hope the first commercial activity will take place before the end of 2025.
Wales 'right to invest'
Welcoming the partnership between GCRE Ltd and Hitachi Group, Welsh government Economy Minister Vaughan Gething said that 'this exciting new partnership is great news for Wales. It highlights the important and high calibre commercial partners that are interested in testing and innovating at what will be a genuinely world class facility. This demonstrates why the Welsh government was right to invest in GCRE and to help develop this exciting concept.'
'This partnership reinforces Hitachi's commitment to UK innovation and supply chain, which has already seen us spend over £2·6bn in the UK since 2015', added Jim Brewin, Head of UK & Ireland at Hitachi Rail. 'Through this initial agreement, we're proud to help GCRE realise its potential and ambition to become a global hub for rail innovation. Being able to test British trains and technology at the test loop in Wales will ultimately benefit both rail passengers and the UK economy.'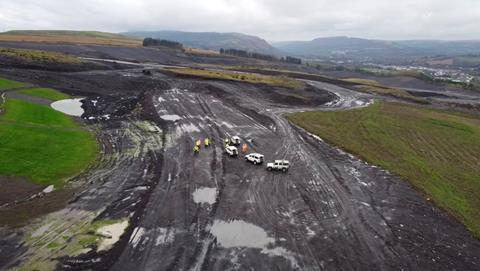 GCRE Ltd Chief Executive Simon Jones said 'agreeing this deal with Hitachi is a big moment for the Global Centre of Rail Excellence. To secure such an important and globally significant partner to undertake testing and research on site clearly demonstrates the calibre and the quality of clients that we will be working with at our facility.
'What is particularly pleasing is the message that this sends to the whole industry about the credibility and attractiveness of the GCRE offer.'