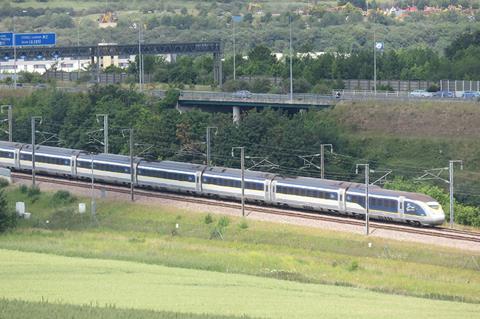 UK: High speed infrastructure business HS1 Ltd has pledged to become fully carbon-neutral 'at the very latest' by 2030.
Forming the keystone of a sustainability strategy launched on October 21, the target covers both traction energy and all other energy use, for example in stations and other buildings.
Further targets include working with train operators Eurostar and Southeastern High Speed to reduce the carbon footprint of every passenger by 25% and cutting energy per train journey by 10%.
Announcing that HS1 Ltd will be 'the UK's first fully carbon-neutral railway' and the 'green gateway to Europe', CEO Dyan Crowther said that environmental and social sustainability was 'critical to the future success of our business'.
As part of its mission 'to deliver a world-leading high speed rail experience', HS1 Ltd is helping consumers to reduce their carbon footprint, delivering 'phenomenal environmental benefits to the UK and beyond, offering a more environmentally friendly alternative to cars and planes'.
HS1 Ltd is now procuring renewable energy from its supplier npower Business Solutions, obtaining Renewable Electricity Guarantee of Origin certificates which confirm that it can report zero carbon emissions for the electricity used to power trains and stations.
Crowther said that HS1 Ltd had identified six priority areas for action to achieve its targets. These were climate change, energy use, resource use and waste impacts, social impacts, biodiversity and transparency. HS1 Ltd is working with Network Rail and Kent Wildlife Trust to achieve a 'net biodiversity gain' by 2030 ― there are 136 different wildlife habitats along the line. The company also plans to have 90% of all waste recycled by 2023.
Richard Thorp, Engineering Director for HS1 Ltd, said that 'the big ticket item' in the company's energy strategy was 'regenerative braking for our rolling stock'. Other elements in the strategy included providing charging points for electric cars at station car parks.
Rail Minister Chris Heaton-Harris said 'we are absolutely committed to driving forward a greener, cleaner and more efficient railway, and it is fantastic to see HS1 making such significant strides towards decarbonising their network. Offering passengers more sustainable, greener forms of transport is crucial to achieving our bold and ambitious vision for a net zero carbon transport system by 2050.'
Harris was 'very keen' to support decarbonisation of the rail network, noting that there was 'no better way to transport people'. Rail would 'play a huge and important part in decarbonisation of the economy', he continued, adding that by linking rail to 'active travel', it would be possible to have an alternative to road transport.