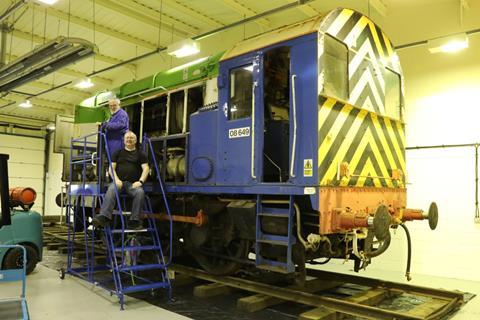 TRACTION: A 60 year old diesel shunting locomotive has been re-engineered with a low-emission hybrid traction package using automotive technology, as part of a research programme backed by the UK's Department for Transport.
Meteor Power Ltd put forward the proposal to convert an ex-British Rail Class 08 shunter with hybrid powertrain under DfT's 2019 'First of aKind' funding competition to investigate the feasibility of re-engineering older locomotives.
Having been granted funding, Meteor established a workshop at the Silverstone motor racing circuit in Northamptonshire and bought two 350 hp Class 08s from the Wolverton coach maintenance works now operated by Gemini Rail Services. One was used as the donor locomotive for the conversion project, while the other was retained in operational condition as a comparator for subsequent testing.
Work began in February to dismantle the donor locomotive, stripping out the original engine and generator. According to Meteor Power CEO Mike Edwards, this was no easy task. 'We've had to rely on the experience and advice of others to guide us. Our task has been made significantly harder as we had to work out which pieces of the jigsaw we had to remove and in what order to gain access to the parts we needed. Advice from industry experts has been invaluable in understanding what the different components are and how they interact. Far too many nuts, bolts and pipes hadn't seen a spanner for 60 years.'
Stripping down was completed by February 21, and 'after a good clean, we commenced installing the new generator and battery pack parts and finalising the wiring', he explained.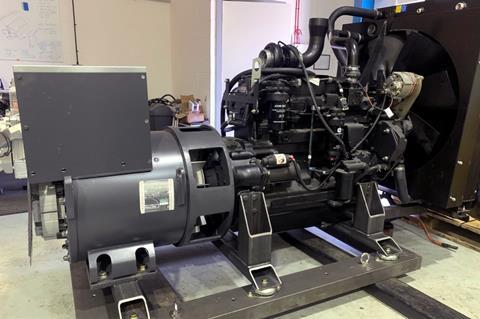 The locomotive has been fitted with a 6·8 litre John Deere PowerTech 6068HFU82 diesel engine rated at 270 to 285 hp. This is compliant with the European Stage IIIA emissions standards, but will be modified to meet Stage V standards using technology from sister company Motive Zero.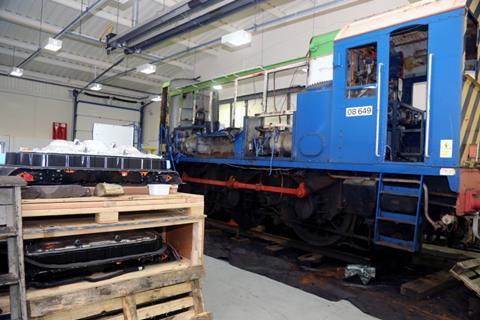 The engine drives a generator which trickle-charges a battery pack assembled using four modules recycled from Tesla Model 3 cars, giving a combined storage capacity of 300 kWh. Each of the four batteries can theoretically be recharged by the diesel engine in less than an hour. The batteries can also capture and store regenerative braking energy.
The locomotive retains its original traction motors, but has been fitted with a bespoke control system. This also controls auxiliary systems such as the compressors and vacuum pumps. The controls in the driving cab are unchanged, but the control system voltage has been reduced from 400 V to 24 V DC, improving safety and potentially simplifying the vehicle acceptance process.
Chief Engineer Rob Bruerton reports that 'the locomotive first moved under electrical power from a shore supply, using an electronic speed controller with an adjustment dial smaller than your little finger'.
The modified and unmodified locomotives were due to undertake a series of comparative trials on the heritage Chinnor & Princes Risborough Railway during April, in order to evaluate the battery range and duty cycle for the hybrid loco. However, the testing programme has now had to be delayed until after the lifting of the Covid-19 restrictions.