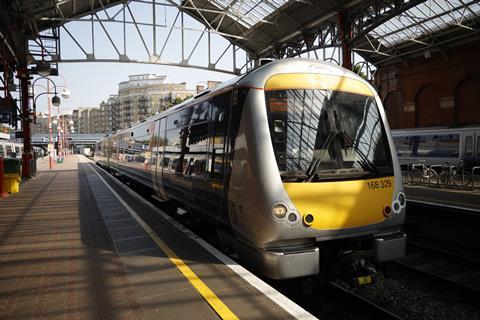 UK: Chiltern Railways has unveiled its prototype HybridFLEX multiple-unit fitted with a hybrid traction system which can offer zero emissions and near silent operation at stations and in other sensitive locations.
Developed by the operator, leasing company Porterbrook and MTU PowerPack supplier Rolls-Royce, the HybridFLEX uses a Bombardier Transportation Class 168 diesel multiple-unit retrofitted with a new traction package including batteries for energy storage. The hybrid drive is expected to reduce fuel consumption and so CO2 emissions by up to 25%, NOx emissions by over 70% and particulate emissions by over 90%.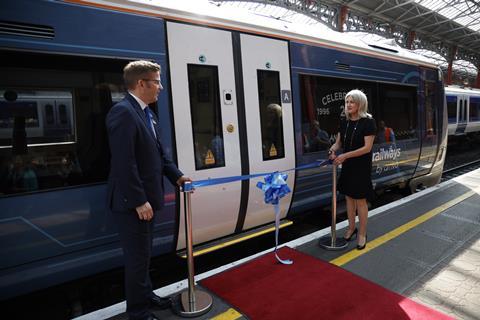 A letter of intent for the project was signed by MTU and Porterbook at InnoTrans 2018, following extensive simulation using theoretical models and a test rig.
The following year Porterbrook appointed Ricardo to provide engineering support for the integration of the mechanical, electrical and critical controls systems of the hybrid powerpack, drawing on its automotive and industrial expertise and experience of hybrid technologies for commercial vehicles.
Ricardo also provided a range of certification and approvals services.
The prototype is expected to enter passenger service with Chiltern Railways in September, enabling the project partners to assess its performance before deciding whether to undertake series conversions.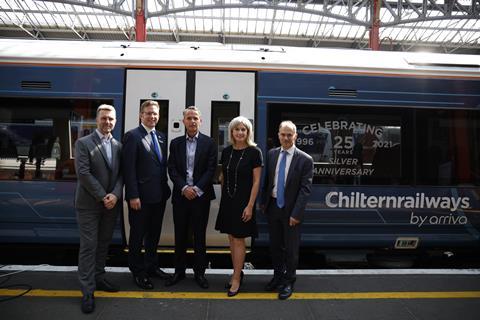 'Chiltern has a fantastic track record of innovating and investing in new routes, stations, depots and trains to attract and retain customers', said the Arriva-owned operator's Managing Director Richard Allan at London Marylebone station on July 21. 'We need to modernise Chiltern again and this exciting use of new technology in an older train is a potentially very significant opportunity to help us decarbonise and improve our customer experience.'
Porterbrook CEO Mary Grant said 'HybridFLEX is part of Porterbrook's growing portfolio of alternative traction systems designed to help Britain's railway accelerate the race to Net Zero.'
Iain Carmichael from Ricardo's Rail Division said 'the UK has a large fleet of diesel units with serviceable life of ten years or more. The HybridFLEX programme proves they have a viable future as hybrids, delivering reduced NOx, carbon and noise emissions on routes that may be many years from electrification.'
The launch event also marked the 25th anniversary of Chiltern Railways, the only passenger train operator and brand to have survived unchanged since privatisation.