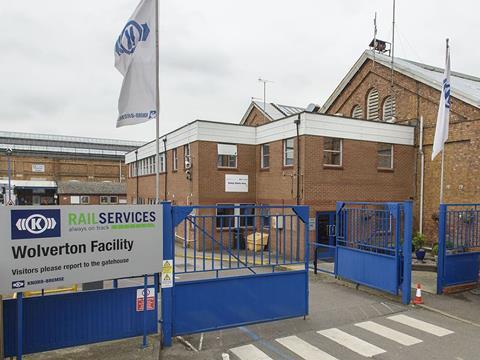 UK: Knorr-Bremse has signed an agreement to sell its Knorr-Bremse RailServices (UK) Ltd rolling stock maintenance and overhaul businesses and consultancy and project management company Kiepe Electric Ltd (UK) to Mutares. The transaction is expected to close by autumn 2018.
The sale announced on August 6 will be the first UK transaction for München-based holding company Mutares, which specialises in acquiring divisions that are no longer part of the core business of a larger corporation but which it believes have an established business model and potential for development.
The deal includes the Knorr-Bremse RailServices workshops in Wolverton and Springburn which have around 600 staff, as well as the Kiepe Electric facilities in Birmingham with around 100 employees.
Knorr-Bremse will retain the Knorr-Bremse Rail Systems components and aftermarket business.
The businesses being sold will be renamed, and commercial collaboration agreements would make them the preferred integration and installation partners for Knorr-Bremse, offering continuity for customers and 'a seamless transition period for employees and suppliers', the companies said.
'We are continuing our ongoing efforts to realign our strategic focus on core competencies as a key supplier for the railway industry, offering subsystems, components and all related services', said Klaus Deller, Chairman of the executive board of Knorr-Bremse AG. 'We are very pleased to have come to an agreement with Mutares, an agreement that will create significant added value for the divested businesses.'
RailServices and Kiepe Electric Ltd 'hold a unique market position in the UK, providing excellent expert services and know-how for the railway industry', said Mutares CEO Robin Laik. 'Both companies have strong growth potential and are an ideal match for our ongoing operations.'