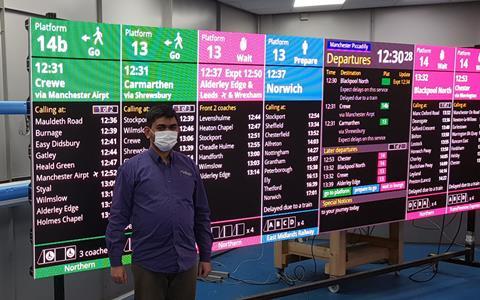 UK: Following off-site testing, a large RGB LED display incorporating wayfinding and other information features is to be installed at Manchester Piccadilly station shortly. This is intended to assist passengers in what supplier Infotec says is a 'very challenging' area of the station, the waiting lounge that serves platforms 13 and 14.
The 6 m display takes existing data delivered by the Worldline CIS system and re-utilises the existing low bandwidth data network, with a secure 4G connection used to manipulate the additional content on the display using Infotec's Javelin back office system.
The Manchester Piccadilly project also includes several TFT displays strategically located around the station to provide staff with 'intuitive' maps showing real-time train position information.
All the displays use Infotec's latest GSM technology and implement a subset of Apion Infotec's publisher/subscriber data model.