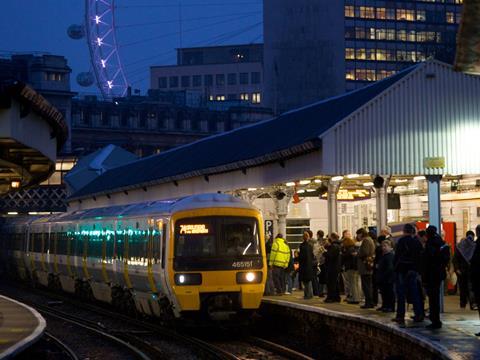 UK: An 'action plan' to revise procedures when trains are stranded between stations for extended periods was announced by Southeastern and Network Rail on August 23, following the publication of an independent report into an incident on March 2 when nine trains became stranded during bad weather and passengers evacuated themselves onto third-rail electrified track around Lewisham in southeast London.
The report which the operator and infrastructure manager jointly commissioned from Southwood Rail Consulting and Arthur D Little is separate to investigations which are being undertaken by the Railway Accident Investigation Branch and Office of Rail & Road. It found that:
the rail industry did not manage the incident in a way that put the needs of passengers first, leading to 'unacceptable conditions' on trains which had no or non-functioning toilets;
the signalling team did not recognise the significance of the incident and react quickly to prevent escalation;
command and control arrangements were inadequate;
communications were inadequate;
a lack of situational awareness meant existing procedures were not followed.
The report makes six recommendations, which NR and Southeastern said they would implement:
strengthening decision making during bad weather;
measures to prevent the build-up of ice on the conductor rail;
reinforced measures to support decision making and communication with passengers to prevent uncontrolled self-evacuation;
strengthening the ability of staff to prevent stranding incidents and respond rapidly to prevent escalation;
updating procedures, with a focus on passenger welfare;
strengthening and testing command and control arrangements.
Network Rail is investigating the provision of conductor rail heating at key locations which although not prone to freezing could potentially benefit. A trial of a more effective anti-icer on snow and ice treatment trains will also be carried out, and Southeastern is exploring the use of ice-breaker shoes on some passenger trains.
Network Rail and Southeastern are working with specialist consultants on planning and preparation for severe weather, including examining the criteria needed to decide if trains should run.
Southeastern is examining engineering changes to extend train battery life so that communications systems and lighting could stay functioning for longer when third rail power is unavailable.
'We sincerely apologise to passengers for what was an unpleasant and distressing experience', said Southeastern Managng Director David Statham and Network Rail's South East Route Managing Director John Halsall in a joint statement. 'Our staff worked exceptionally hard in extremely difficult circumstances, but the number of trains involved in this incident made it difficult to co-ordinate a response.'
They said they would 'like to emphasise that the safest option for passengers is to remain on board and await help, even in the exceptionally unusual scenario of a train getting stuck between stations.'