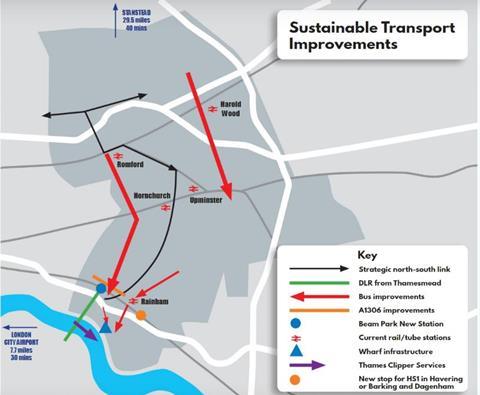 UK: Havering Council has announced an infrastructure vision for the east London borough which includes a 'tram, light rail or other form of transport'.
The proposed north-south line would connect Harold Wood, Romford and Upminster with the planned Beam Park c2c station in Rainham.
It could further connect to the Docklands Light Railway and a separately proposed Essex – Kent tram route under the River Thames.
'We will now look to undertake further feasibility work this year to assess and better understand our options'' said council leader Ray Morgon.
The council also wants increased line speeds on the c2c network and reduced delays at level crossings. It has called on the Department for Transport to work with Network Rail and c2c to break the current deadlock preventing construction of Beam Park station, which DfT has opposed because of concerns about its viability.
Havering would also like work with its neighbours to push for capacity improvements at Barking and West Ham stations.
'For too long the council has been inward focused. We now need to be ambitious to get the best for the borough', said Morgon.
'We can't do this alone and need a wider strategic view across east London and Essex', he added, calling for a government commission to 'bring everyone together and have a wider view of what needs to be done', including the 'thorny issue' of Beam Park station and improving rail links.