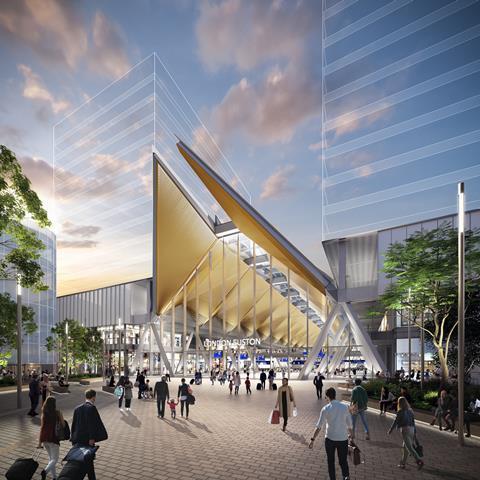 UK: High Speed 2 project promoter HS2 Ltd has published updated design concepts for the future high speed line terminus at London Euston station.
The designs have been developed by a consortium of Arup, WSP and Grimshaw Architects for the joint venture of Mace and Dragados which has been awarded HS2 Ltd's Station Construction Partner contract.
The designs have been updated from those unveiled in 2015 to offer a 'less complex, more efficient' station which can be built in a single phase, with the number of platforms reduced from 11 to 10.
The station will be set across three levels, with 10 subsurface platforms 450 m long providing a capacity for up to 17 trains/h.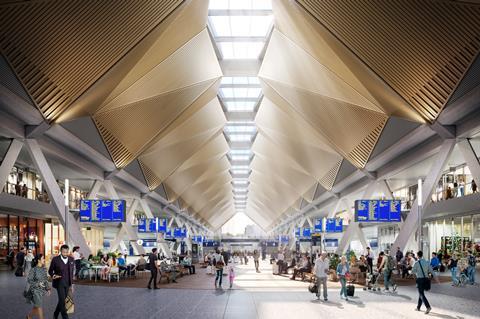 The ground-level concourse will be 300 m long, and the biggest in the UK at '20% larger than Trafalgar Square'. Retail and station facilities will be available on the ground and first floors.
There will be entrances to the north, south and west of the high speed station, with access to the existing Euston station to the east. A new London Underground ticket hall will provide direct connections to Euston Square station and 'seamless connections' between the Northern, Victoria, Circle, Hammersmith & City and Metropolitan lines.
The concourse will provide a sheltered public route between new public spaces to the north and south. The 'bold geometric' roof is intended as an identifying feature, emphasising the north-south alignment and allowing natural light into the concourse.
This north-south route will link up in the longer term with new public east-west walking routes that are to be provided through the HS2 station roof when regeneration of the existing station is completed by Network Rail and Lendlease, which is acting as Master Development Partner at Euston.