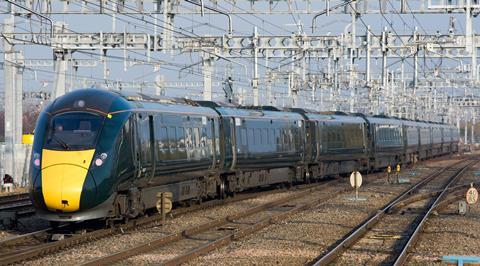 UK: Instrumented trainsets from the Hitachi-built IET fleets operated by GWR and LNER have started gathering data to help evaluate what work will be required for fleet-wide repairs to the cracks discovered on lifting plates at the jacking points and on the yaw damper bolsters.
Instrumented GWR set 802 103 undertook several journeys to Penzance during June, while LNER's 801 228 is expected to begin test running in early July.
GWR has begun returning more of its Class 80x trainsets to service, having gained a better understanding of the cracks, and a similar decision is understood to have been taken at LNER. However both operators expect small numbers of sets to remain out of service awaiting repair.
With a 'thorough and robust' daily inspection routine now firmly established, Hitachi reported in late June that between 10 and 14 sets across all fleets were not available for service on any given day.
The future of GWR sets 800 026 and 802 005 remains most uncertain. Vehicles from both units have had large areas of their bodysides, including the bolster, cut away for analysis. Investigations continue, but it is thought that welding in new sections will not be viable and completely new vehicles may be required. One insider from the train operator confirmed that 'they won't be going back in service very soon'.
Rail Business UK understands that a rectification strategy has been agreed for repair of the jacking points and is now being carried out. However, work continues on determining the causes of the cracks in the yaw damper bolsters and developing a suitable repair for those.
Business as usual
No firm conclusion has yet been reached over the cause of the cracking, but a number of senior insiders report that it is being assumed that all 80x trainsets are likely to see cracks in the same areas over time. So as well as developing a short term repair programme, they anticipate that a long term plan may need to be in place to manage the issue for the life of the trains.
According to industry insiders, the key for Hitachi is establishing a rectification process will allow the repairs to be carried out while making available a consistent number of trains to the operators. Diagrams are currently being covered despite the shortfall, but some services are seeing single sets operating in place of pairs. The supplier recognises that capacity may become more important as traffic builds up in any post-Covid-19 recovery through the summer.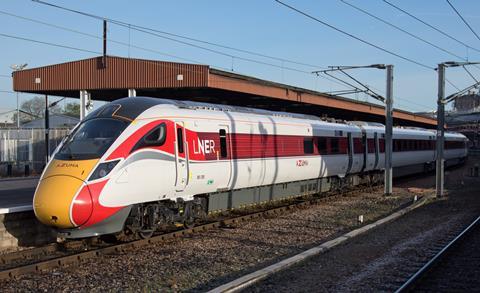 It is expected that the repair work will become what one insider described as 'a business as usual activity', as part of the overall train maintenance programme. Given the amount of work required in the short term, it is likely that more than one repair base will have to be established, with sites close to the GWR and LNER routes expected to be confirmed soon.
Initial repairs are expected to be linked to the first bogie overhaul programme for the GWR units, with one insider explaining that the sets will go for rectification roughly in order of crack size. The Class 800 five-car units are likely to be first as they have the worst cracks and are also the first to fall due for bogie overhauls.
It is understood that cracks have also been found on some coupler plates, so an additional assessment has been carried out to allow the sets to continue to run until repairs are completed.
Asked whether any of the more seriously damaged sets could be split to allow vehicles with little or no cracking to be put together to create serviceable units, one operator commented that this would be unlikely. 'We haven't yet found an example where it would give us any benefit; we would need to have exactly the right vehicle from one set matching one that is cracked in the other, but in principle it has not been ruled out. The view is that every single one of these trains will crack eventually. There's nothing in any of the trains that means that we can have any belief that they're likely to not crack, it's just a question of when.'