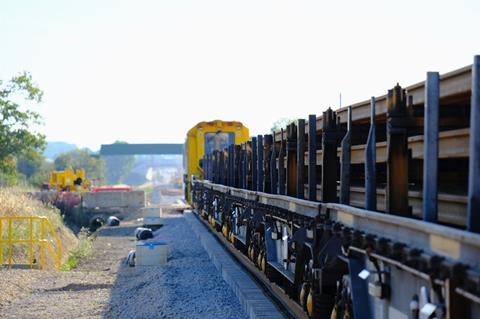 UK: The East West Rail Alliance has brought Network Rail's long welded rail train out of retirement for use on Phase Two of the project between Bicester, Bletchley and Milton Keynes.
The alliance of Atkins, Laing O'Rourke, VolkerRail and Network Rail said the LWRT is 'a simple yet surprisingly complex machine', comprising nine flat wagons with banks of rollers which can carry up to 24 long-welded rails.
It has been upgraded in partnership with Clarke Chapman Facilities Management to meet the demands of the East West Rail project and current safety standards.
'Due to large quantities of long welded rail installation still needed on site, and to help reduce the reliance on the rail delivery train fleet, in which there is limited capacity in the national plan, Network Rail offered to support the EWR alliance's midweek track construction programme by reintroducing the LWRT', said Jamie Denney-Clarke, Network Rail's Business Support Manager
'The train was originally retired due to a lack of working at height protection, required when unloading rails on site, but the team found a new solution to protect against this risk.'
Mark James, EWR Alliance's head of Track & SP&C, said 'bringing this train out of retirement gives us much greater programme resilience', as 'we can have two sets of rail carriers loaded up, providing us with more flexibility with our rail drops'.