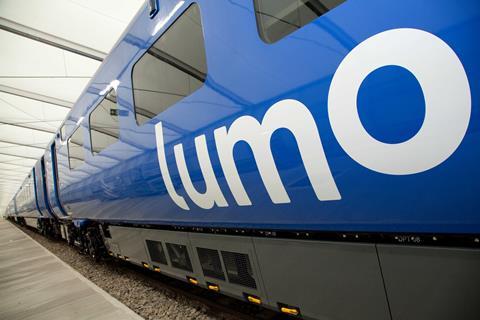 UK: FirstGroup has unveiled Lumo as the brand name for the East Coast Trains open access service between Edinburgh and London which is set launch on October 25 to provide 'a blueprint for low-carbon, affordable long-distance travel'.
FirstGroup said the name 'combines illumination and motion', adding that the service would be 'a new rail travel experience that is kinder to the planet and better value for customers, making it a greener and more affordable choice for long distance travel'.
Lumo is aiming to carry more than 1 million passengers per year. It is particularly targeting people who currently fly between Edinburgh and London; in June it says there were 74 764 air journeys on the route, compared to 82 002 by rail.
Service ramp up
The service will launch in October with two trains each way per day. Industry systems show the 06.14 departure from Edinburgh arriving at London King's Cross at 10.51. All trains will call at Newcastle and Morpeth, with two per day also calling at Stevenage.
It is expected that three of the five dedicated Hitachi Class 803 trainsets will have been delivered and accepted by the start of revenue services; the first set is due to join the fleet towards the end of September.
Services will ramp up over a period of months to the planned timetable of five trains each way per day. A small increase is envisaged at the December timetable change, followed by full implementation in Q1 2022.
The delay in launching the full service is ascribed to the impact of Covid-19 and delays in crew training. Some initial driver training has used hired-in Class 802 sets from TransPennine Express and further use of TPE or Hull Trains units can continue if required.
Ticketing targets ease of use
'People have a fear of using rail and we will be targeting the ease of use', Lumo told Rail Business UK. It said research showed that only 8% of the population used rail, and the biggest challenge would be to bring some of the remaining 92% on board.
Reasons for cited avoiding rail including suggestions that it is 'daunting' with complicated processes that lead to overpriced journeys.
Lumo said very little research has been carried out into the long-distance coach market, which it sees as particularly interesting target. It noted that National Express has been targeting rail passengers by highlighting the price and ease of use of long-distance coaches.
Yield management will play a key part in ensuring trains are well-filled, with Lumo looking towards airline models as its starting point.
Single fares will start at £14·90, and during a launch offer period between October 25 and December 1 every single journey booked up to one day ahead will cost £19·90 or less.
'We think the price range, with 60% of tickets costing less than £30, will be sustainable', the company said.
According to industry sources the operator will need to achieve an occupancy level of around 80% to make the business viable at these price levels.
Options will be made available to purchase advance tickets well ahead of the traditional 12-week timeframe. Copying methods used by airlines, passengers will be advised of any changes to journeys booked far in advance
Lumo aims to establish a 'digital relationship' with its customers, enabling it to obtain information such as the reason for a journey. This could be used to improve the experience, such as ensuring all passengers travelling to a football match are in the same coach or if rival supporters are travelling, they can be put in separate vehicles.
'We want to help manage their travel in its entirety, not just sending a message "thanks for booking, we'll see you in 12 weeks"', the company explained.
Reciprocal contracts providing support in case of disruption have been signed with other operators, including LNER.
While the new service has been seen as a competitor to the InterCity East Coast incumbent, Lumo insists that its first aim is to bring new passengers to rail from other modes.
'If you get a good price from LNER, want a first class ticket with all that it brings, or need a train at a different time to ours that's fine', the company told Rail Business UK. 'We want to grow rail and bring people to a more sustainable, environmentally way of travelling.'
As part of its work to target air passengers, FirstGroup says that Lumo's trains 'are ergonomically designed for comfort and ease, helping passengers to work or play.'
The interiors will have a single class of accommodation 'which puts everyone in the good seats with optimised leg room'. The custom-designed seats have been 'ergonomically designed and tested for longer journeys', with an adjustable tray table, privacy wings and personal lighting.
Passengers will be able keep their luggage close by or, for an additional charge, have it delivered to their final station or destination.
Greener than flying
Emphasis is being placed on the environmental credentials of rail travel, with FirstGroup emphasising that the train will be 'at least six times greener than flying'.
Lumo intends to publish its carbon emissions data on a regular basis, feeding a carbon calculator to enable passengers to calculate the impact of their journey and compare it with other ways to travel.
More than 50% of the onboard catering menu will be plant-based, the staff uniforms are responsibly sourced and can be entirely recycled, and paper waste will be dramatically reduced with a digital-first approach, including paperless ticketing.
Trainsets
Services will be operated by a dedicated fleet of five Hitachi AT300 Class 803 electric trainsets, which have been financed by Beacon Rail in a £100m order including maintenance.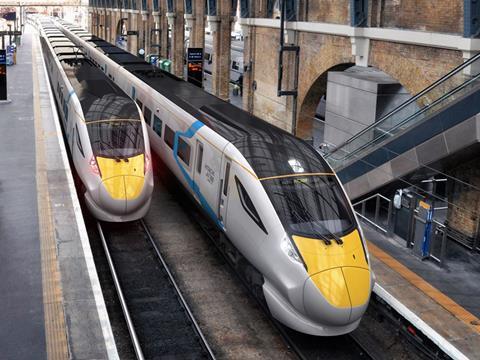 The trainsets will be able to run with power draw limited to 80% of normal on the northern part of the East Coast Main Line where there is limited power supply, with modelling by FirstGroup's engineers and Network Rail suggesting that for five-car sets this will not affect sectional running times and will allow electric trains to continue running.
While the similar Class 801 electric units have a single diesel engine to provide hotel power and move a trainset at low speed if the 25 kV 50 Hz supply fails, the electric-only Lumo Class 803 sets will have a battery which is able to maintain hotel power alone.
Lumo has looked at how to manage any engineering blockades involving diversions away from the wires, with options including transfers to Hull Trains or TPE services operated using bimode trainsets, transfer to buses if no alternatives are available, and even the cancellation of a service if passengers indicate they would prefer not to travel if their journey will be disrupted.
It is accepted that, with repairs following the appearance of cracking likely to be required across all Class 80x sets, the Lumo 803s will need modification work at some point. It is hoped that this can be managed during planned maintenance.
Staff
Many members of the Lumo workforce are new to rail, and the 15 driver apprentices in the business only two are existing railway employees.
The company has invested £2m in a training academy 'to develop a fresh-thinking generation of rail colleagues, focused on passenger wellbeing and on-board customer service, harnessing new technology and caring for vulnerable passengers'.
Staff will be expected to act like airline stewards, visible and available to help, and consideration is being given to getting drivers to make welcome announcements that would mimic those encountered at the beginning of a flight. 'Can we be more like an airline? How can we make ourselves different?' is the question the company has posed itself.
If these initiatives prove successful consideration will be given to rolling them out across other FirstGroup rail operations.
Structure
Lumo will have a very lean management structure. FirstGroup has invested £15m on digital and IT infrastructure, while some back office functions will be shared with sister open access operator Hull Trains.
FirstGroup said Lumo aimed to contribute £250m to the UK economy over the next 10 years, creating more than 100 jobs and generating over 1 million extra seats on the network every year and generating more than 13 million additional passenger journeys in the next decade.
The brand also encompasses LumoEats, an at-seat catering offer which will allow passengers to purchase from a catering trolley or use an app to order food from a range of high street brands, and LumoGo, a free wi-fi and entertainment centre.
Managing Director Helen Wylde said 'travelling in the UK should not cost a fortune and it certainly shouldn't be the planet that pays. Whatever your preferred mode of transport, we are likely to be more affordable and kinder to the planet.
'We believe everyone has the right to travel in style. We are empowering people to make green travel choices that are genuinely affordable without compromising on comfort.'
Wylde said 'the reasons people choose different modes of travel are changing. People are now considering their impact on the environment very carefully. They also expect better service and catering. Lumo is a new rail travel experience that is kinder to the planet and better value for passengers, while never compromising on service.'