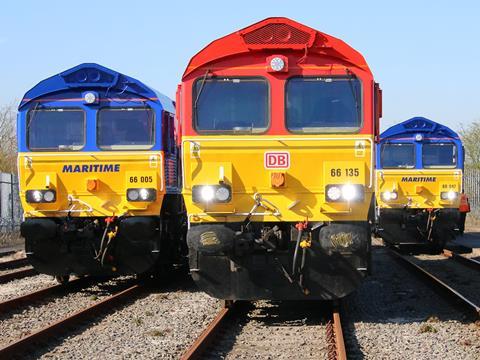 UK: Logistics company Maritime Transport officially launched its Maritime Intermodal business on March 29. DB Cargo UK unveiled two specially-branded Class 66 locomotives to mark the start three days later of a 10-year contract to operate daily container trains from Southampton and Felixstowe to inland terminals on Maritime's behalf.
As part of the deal, Maritime has taken over the management of DB Cargo UK's rail terminals at Trafford Park and Wakefield, adding to its existing Tilbury and Tamworth sites. It has also signed an agreement to manage a new terminal in Castle Donington which is to be completed in September, and it plans to invest £20m upgrading its terminals and equipment and recruiting staff.
'Rail is now firmly part of our future, and although it's a challenging venture for us, it's one we are very much looking forward to', said Maritime's Group Executive Chairman John Williams.
DB Cargo UK Chief Executive Hans-Georg Werner said the deal with Maritime 'shows road and rail need not be in competition but can deliver more through collaboration'.