The first of the Stadler Class 777 EMUs to renew the Merseyrail suburban fleet is now on test. Tony Miles reports from Kirkdale.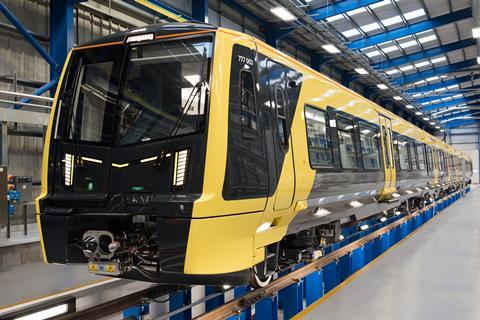 The first of Merseyrail's new Class 777 EMUs was formally welcomed to the UK by the mayor of Liverpool City Region Steve Rotheram in an event at Kirkdale depot on January 28. Assembled by Stadler in Switzerland, unit 777 003 had been hauled by rail across Europe, a journey that was slightly delayed by industrial action in France.
The 52 four-car trains are being supplied under a £700m contract awarded in February 2017. This will also see Stadler undertaking light and heavy maintenance of the units throughout their 35 year life at the purpose-built depot. The units were ordered to replace the Class 507 and 508 fleets which are now over 40 years old.
The new fleet will be owned outright by local transport authority Merseytravel, which will lease them to the operator; this will ensure that they will remain on the local network. An option to purchase up to 60 additional units could be exercised if services are extended to new destinations such as Helsby, Skelmersdale or Wrexham.
Battery storage
Each four-car unit will provide seats for 182 and room for 302 standing passengers, compared to 192 seats in a three-car Class 507. One pair of sliding doors is provided on each side of the driving cars and two per side of the centre trailers. Total weight of the set is put at 99 tonnes, around 5 tonnes lighter than the old EMUs. Installed power will be 2 100 kW, a significant increase on the 656 kW of the Class 507s, but the maximum speed will remain at 120 km/h.
While the core Merseyrail network is electrified at 750 V DC third rail, the Class 777s have a dual voltage capability to use 25 kV 50 Hz electrification on any extensions. Options also exist for a battery-electric variant, and it is anticipated that one of the initial build will be equipped with onboard energy storage for evaluation. There is space under one vehicle to house a battery weighing up to 5 tonnes within the axleload limit.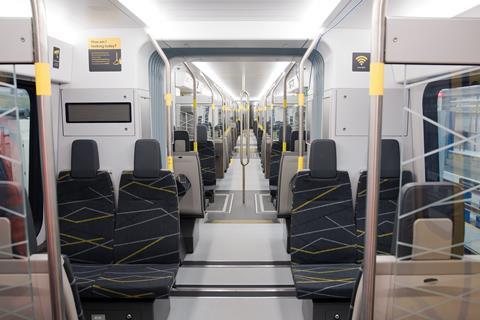 According to Merseytravel, 'we want to be able to prove the concept that we could run beyond the third rail'. By storing recovered braking energy, the batteries would help to reduce power demand and the resulting greenhouse gas emissions. All of the Class 777s will be fitted with small batteries to allow independent movement around workshop and maintenance facilities.
Passenger friendly
The trains were designed following extensive consultation with passengers. As well as onboard CCTV they have larger vestibules and more grab handles, improving safety for standing passengers. A transparent screen behind the driver will give passengers a forward-facing view, although this can be made opaque at the flick of a switch if necessary.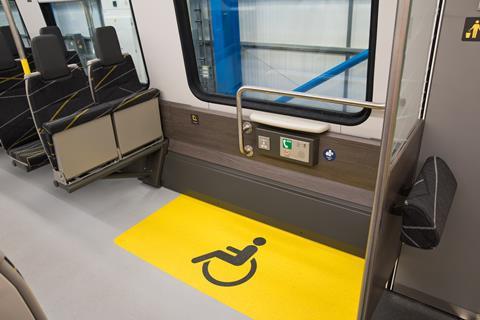 The wide-gangwayed units are designed so that a wheelchair user will be able to pass through the length of a train, a level of accessibility that will also benefit elderly passengers, travellers with prams and buggies, or cyclists.
To provide level boarding, the floor height is lower than standard, at 960 mm above rail level. All entrances are fitted with intelligent sliding steps to close the gap between train and platform. Door sensors will detect obstructions, while coloured lights on the doors inform passengers when it is safe to board and alight.
Merseytravel Chair Liam Robinson told Railway Gazette 'we're really proud with the benchmarks that we're setting here on Merseyside. In my view, in the fullness of time, these will get rolled out across the rest of the heavy rail network in this country.'
Infrastructure modifications
Extensive work has been needed at many of the stations to ensure the platform height is kept within a very tight tolerance for level boarding. Platform extensions will also be required in various places, and Rolling stock programme director David Powell explained that Merseytravel is currently working with Network Rail to identify what work is needed.
'Running four car units will not be a problem. Where we are limited is the operation of eight-car sets, which will be required on the busier routes. This work involves a mix of platform lengthening and moving some signals, either where longer trains would pass existing platform end signals or where we need to meet new sighting regulations.'
The signal sighting review has been done as a 'desk-top' modelling exercise, but final decisions will be taken once the first set starts running on the network and the assessments can be validated, Powell explains. He anticipates that a 'reasonable number' of signals will need to be relocated, with the final total being 'in double figures'.
The biggest challenge will be at Southport, where platform lengths are constrained by turnouts immediately beyond the platform ends; the platforms may have to be extended towards the concourse.
Work is also underway to strengthen the power supply, improving the existing supply connections and adding new substations. Long distances between feeder points mean that the nominal 750 V DC can fall to below 400 V at some locations. The less-powerful Class 507s and 508s with their basic control systems can cope with the low voltage, albeit with reduced performance, but the Class 777s, with their higher power demand and modern control systems cannot operate when the supply falls below about 500 V.
The power supply upgrade is expected to be completed by the end of 2020, well before full fleet introduction. Powell says the Train Management System on the new EMUs will be able to provide a precise readout of the third rail voltage along a route, allowing the infrastructure manager to ensure the supply is satisfactory and monitor how it fluctuates if several trains are running close together.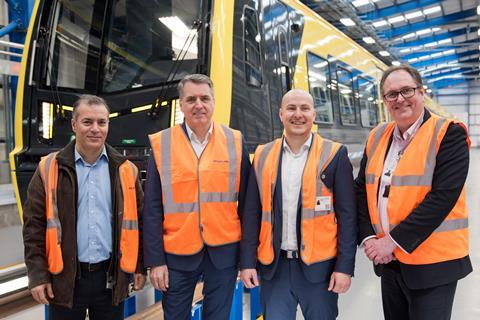 Testing and commissioning
The first Class 777s were originally due to be delivered from mid-2019 and enter service from May 2020, with all 52 trains to be in service by the end of 2021. Delivery of the first set was around four months behind schedule and the deployment plan has been revised. The current aspiration is for the first trains to enter service in the latter part of 2020, following a comprehensive programme of testing and crew training.
One particular area of focus will be checking for electromagnetic compatibility – Powell points out that 'there is a host of compatibility issues on the Merseyrail network, including a number of different types of track circuit, as well as the requirement to operate on third rail under 25 kV wires. We will need to tread carefully.'
While 777 003 has been delivered to Kirkdale, unit 001 is now at the Siemens test centre in Wildenrath for dynamic testing. It is due to be replaced there by sets 002 and 004, providing the two units needed for a thorough evaluation of the coupling and multiple-working functions. That will release 777 001 to return to Switzerland for completion ahead of delivery to the UK.