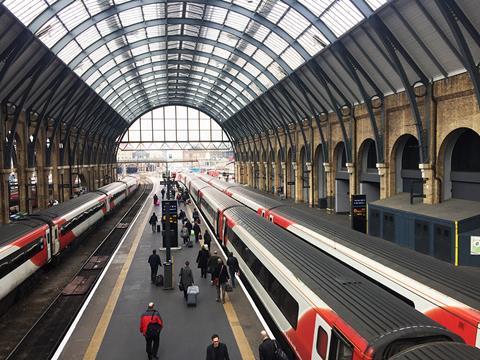 UK: Infrastructure manager Network Rail has begun the process of appointing a train control partner to act as its 'complete delivery agent' for the roll-out of ETCS Level 2 on the East Coast Main Line.
Deployment would start with the southern 160 km between London King's Cross and Grantham, which NR said would be the UK's first major inter-city line to be equipped under its digital railway programme. This is intended to act as a 'catalyst' for further deployment.
The single-supplier framework contract which is expected to be awarded in spring 2019 would be worth up to £1·8bn. It would comprise two main types of call-off contract, one covering professional services for an initial four-year term that may be extended up to eight years in annual increments, the other covering design, build, supply, installation and maintenance over 30 years from system commissioning.
NR said its London North Eastern & East Midlands Route would 'team up early, and on a whole life basis', with the technology provider. 'We are seeking a partner in the truest sense of the word; moving away from traditional input based procurement and instead buying a long-term relationship based on industry outcomes', said LNE & EM Route Managing Director Rob McIntosh on September 4.
According to NR, the southern section of the ECML presents a 'once in a generation alignment of opportunities' for a 'cost-effective digital railway transformation'. Existing train control systems need to be renewed, and new rolling stock coming into service has been designed for cab signalling.
'The big challenge of digital railway is the integration of the infrastructure and rolling stock, and with the need for asset renewal coming at the same time as 70% of passenger trains being fitted, we are presented with a huge opportunity to align track and train in an efficient way', said David Waboso, Managing Director, Group Digital Railway. 'The procurement is being done in a radically different way which will build on the key learnings from our Early Contractor Involvement programme. We seek a long-term relationship based on genuine partnership, extending for the whole of the asset life.'
There will be separate procurements for a traffic management partner and a railway systems integrator partner; the latter is required to carry out an independent assurance role so cannot also be appointed to the TCP or TMP roles.