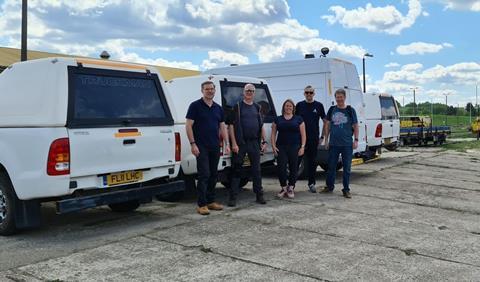 UKRAINE: British infrastructure manager Network Rail and its supply chain partners have donated four vehicles loaded with railway spares and tools including generators, drills, jacks and cutting equipment to Ukraine's national railway Ukrzaliznytsia, which issued an appeal for help through the International Union of Railways following the Russian invasion.
'We didn't hesitate when the request for help came through', said Allan Spence, Network Rail's Director of Regulator Liaison. 'We often talk about the railway family here in Britain, but the family has international connections too. Anyone who has watched the news over the last few months has been moved by what they've seen and that spurred us into action.
'We took the vehicles loaded with equipment to a depot near the Polish-Ukrainian border. We had lots of help along the way — like complimentary travel through the Channel Tunnel, radios loaned by High Motive and help to get back from Polish railway PKP. And the loads we took included lots of kit from our contractors.'
Five Network Rail staff drove the four vehicles through six countries, arriving on May 16 with the journey across the border into Ukraine managed by PKP.