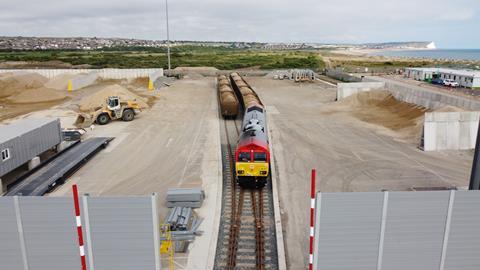 UK: A formal proposal to close the redundant but still nominally open Newhaven Marine station has been approved by the Department for Transport following a public consultation. The line will remain open to serve a newly-developed freight terminal at the East Quay site, where DB Cargo has operated the first train.
Situated on a spur off the Lewes – Seaford line, Newhaven Marine station was built to provide access to the cross-Channel ferry terminal. However, in the 1980s the ferries were relocated closer to Newhaven Town station. Passenger services to Newhaven Marine were steadily cut back, and then suspended completely in 2006 as a result of concerns over the condition of the canopy. The station building was demolished in 2017, and a single daily empty stock movement was withdrawn in early 2019 during resignalling works.
The consultation on formal closure which was undertaken earlier this year attracted 27 responses. Of the four respondents who opposed the proposals, two did so on the basis that closure might have a negative impact on the quality of local rail services in the future, and two raised concerns about the closure of any station.
Nevertheless, DfT concluded that even if the station were to be rebuilt, there would be no reason for passengers to use it rather than the nearby Newhaven Harbour station.
The closure proposal announced by DfT on June 24 must now be submitted to the Office of Rail & Road for ratification. It is anticipate that the station would close on or after September 26.
The track will remain available as a siding for berthing trains, and to provide access to the new freight facility.
On June 18 DB Cargo operated a train of empty wagons from Acton Yard to the new Brett Aggregates terminal for loading with marine aggregates. The operator said this was the first train to enter the port area for around 25 years.