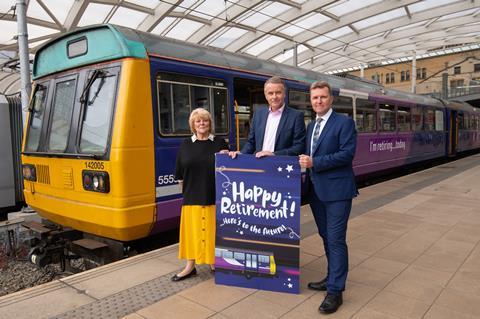 UK: A few days ahead of the January 1 2020 deadline for ensuring compliance with tighter accessibility standards, the Department for Transport has granted limited dispensations for operators to keep in service for up to one year trains which do not meet the requirements of the Technical Specification for Interoperability - Passengers with Reduced Mobility.
Writing to the Rail Delivery Group, Rail Minister Chris Heaton-Harris said it was 'extremely disappointing' that the rail industry and train operators would fail to meet the deadline to provide accessible trains for every passenger and every journey by the end of the year'. While acknowledging 'the efforts the industry has made so far to achieve compliance', and accepting that 'delays in the delivery of some new trains by manufacturers has affected the industry's ability to meet the deadline', the letter fails to acknowledge that in some cases the failure to modify trains had been due to operators and vehicle owners awaiting DfT guidance on the future of certain fleets or approval to order replacement vehicles.
Noting that the Secretary of State's powers to permit non-compliant vehicles to continue in operation 'have not been used lightly', Heaton-Harris accepted that the withdrawal of all non-compliant trains would have 'a disproportionately negative effect on the provision of services for passengers'. He had therefore 'reluctantly agreed to issue strictly time-limited dispensation notices to a number of operators for around 1 200 carriages'.
Agreed in consultation with DPTAC, ORR and Transport Focus, the derogations come with two 'major conditions'. Operators must provide evidence that the introduction of new or refurbished vehicles remains on track, and that they understand they are legally bound to deliver on commitments to provide information and assistance to users. Where possible, operational mitigations should include coupling non-compliant vehicles to compliant ones.
However, an unexpected requirement is that rail replacement bus and coach services must also be fully compliant with relevant accessibility regulations from February 1. Industry sources point out that very few long distance coaches are compliant with the regulations, noting that it had previously been accepted that passengers with accessibility problems would continue to be accommodated in fully compliant taxis. Following complaints from disability groups, Heaton-Harris told operators that he would only grant a one-month extension for the use of non-compliant road vehicles.
'During this time, I expect TOCs to do all they can to source compliant vehicles before considering using non-compliant ones', he insisted. Industry insiders suggest that it will be impossible to source sufficient vehicles from February 1, and that further discussions with DfT will be needed.
Rolling stock covered by DfT dispensation
| Operator | Fleet | Owner | End date |
| --- | --- | --- | --- |
| Greater Anglia | Class 317 EMU | Angel Trains | October 1 |
| | Class 321 EMU | Eversholt | December 1 |
| | Mk III coaches | Porterbrook | April 1 |
| | Class 317 overrun | Angel | April 15 |
| | | | |
| Northern | Class 142 DMU | Angel | May 31 |
| | Class 144 DMU | Porterbrook | August 31 |
| | Class 150 DMU | Angel | September 30 |
| | Class 153 DMU | Angel/ Porterbrook | December 31 |
| | Class 156 DMU | Angel/ Porterbrook | December 31 |
| | Class 323 EMU | Porterbrook | October 31 |
| | | | |
| TfW Rail | Class 142 DMU | | July 31 |
| | Class 143 DMU | | July 31 |
| | Class 153 DMU | | December 31 |
| | Class 150 DMU | | August 31 |
| | Mk II/III coaches | | June 30 |
| | | | |
| East Midlands Railway | Class 153 DMU | Angel/Porterbrook | December 31 |
| | IC125 HST sets | Porterbrook | July 28 |
| | IC125 HST sets | Angel | December 31 |
| | HST ex LNER | Angel/Porterbrook | December 31 |
| | | | |
| Scotrail | Unmodified HST sets | | December 31 |
| | Mk II coaches | | May 31 |
| | | | |
| Arriva Rail London | Class 317 EMU | | June 30 |
| | | | |
| West Midlands Trains | Class 153 DMU | | December 31 |
| | Class 323 EMU | | September 30 |
| | | | |
| Eurostar | Class 373 high speed train | | December 31 |
| | | | |
| GWR | Class 143 DMU | | December 31 |
| | | | |
| Chiltern | Mk III coaches | | December 31 |