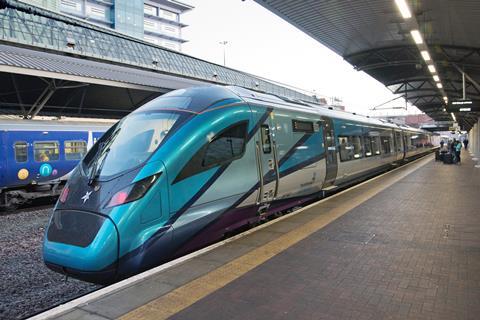 UK: The third new type of train being procured by TransPennine Express under its £500m fleet expansion programme entered passenger service on November 30, when a Class 397 'Nova 2' EMU worked the 08.10 train from Manchester Airport to Edinburgh.
Built by CAF and financed by Eversholt Rail, the 12 five-car units are intended to operate from Manchester Airport and Liverpool to Glasgow and Edinburgh via the West Coast Main Line. They will be maintained by Alstom at its Manchester Traincare facility.
Each unit has 264 standard and 22 first class seats, which the operator says is an increase of 105 on the units that they are replacing. TPE points out that 60% of the seats are arranged in table bays, and all standard class seats are aligned with the windows. As well as real-time information provision, on-board wi-fi and media servers for the Exstream entertainment system, the units have power sockets at every pair of seats and storage for up to four bicycles. Each set has three standard and one accessible toilet, and will soon offer an electronic seat reservations system.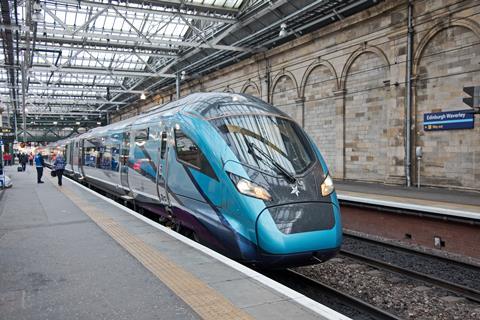 Entry into service is significantly behind schedule, following late delivery and a protracted period of testing and acceptance. TPE was due release its 10 four-car Class 350/4 EMUs to West Midlands Trains ahead of the December 15 timetable change, but WMT has now agreed to a phased handover. Four units were transferred by December 1, with two groups of three expected to follow early next year. Nova 2 introduction will initially focus on the heavily-loaded Manchester – Scotland route, while the Liverpool – Glasgow service which begins on December 15 will be temporarily worked by Class 185 DMUs until sufficient sets are available.
The inaugural journey on November 30 was not without incident, as an overhead wire fault south of Carlisle saw the train delayed at Preston for almost an hour until the route reopened. With many other trains cancelled, the five-car unit finally arrived at Edinburgh carrying an estimated 520 passengers.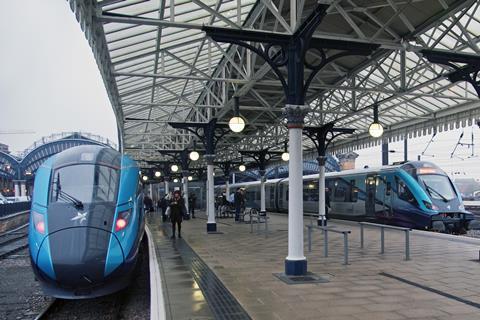 Having formally launched its new Nova fleets at Liverpool Lime Street on November 22, TPE held an event in York to give stakeholders an opportunity to see the new trains that will regularly operate services to northeast England. These include the 19 Class 802/2 Nova 1 bi-mode trains from Hitachi, and the 13 Nova 3 push-pull sets featuring Mk 5a coaches from CAF and Class 68 locomotives leased from Direct Rail Services.
The December timetable change is due to see a significant uplift in daily Nova 1 diagrams from four to eight, as TPE extends its Liverpool – York – Newcastle service to Edinburgh and releases additional class 185 sets for temporary deployment on the Liverpool – Preston – Glasgow route.