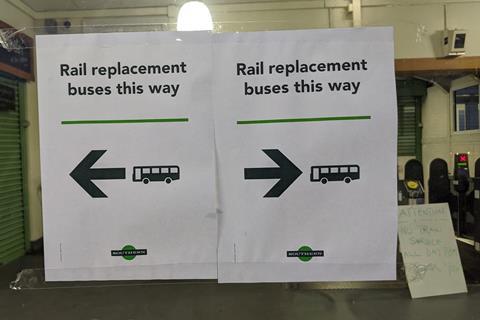 UK: The Office of Rail & Road is consulting on a revision of its Accessible Travel Policy Guidance relating to rail-replacement coach services.
The Public Service Vehicle Accessibility Regulations come into effect for coaches on January 1 2020, with the aim of ensuring that disabled people, in particular wheelchair users, are able to access local and scheduled bus and coach services.
ORR said that while the 'vast majority' of buses used for rail-replacement services are accessible, this is not the case for long-distance coaches.
Of more than 55 000 coaches used by rail operators over the last year only 175 were PSVAR-compliant, and the Confederation of Passenger Transport estimates that there are only around 600 accessible coaches potentially available for rail-replacement work.
ORR wants to avoid a situation where mandating compliance with its accessibility requirements could lead to rail-replacement services being curtailed because of the limited supply of accessible coaches, or passengers being forced to make long journeys on buses designed for short trips and lacking seat belts, luggage space and toilets.
The consultation is seeking feedback on additional requirements in key areas:
Mandatory tendering for accessible vehicles in rail-replacement contracts, to incentivise investment in the supply chain and increase the availability of accessible vehicles;
Encouraging earlier procurement and greater use of accessible vehicles at times of planned disruption;
Proactive provision of information on the accessibility of rail- replacement services, and any alternatives that may be more appropriate for some passengers;
Working with industry partners to improve the provision of accessible coaches during engineering works
ORR is seeking comments by February 14 2020.
The Rail Delivery Group encouraged people to respond. Head of Accessibility & Inclusion Dominic Lund-Conlon said the consultation was 'an excellent opportunity for disabled passengers to really influence how accessible rail-replacement services are delivered, and we would encourage everyone to respond so that we know how best to improve in this important area.'
Websites
We are not responsible for the content of external sites