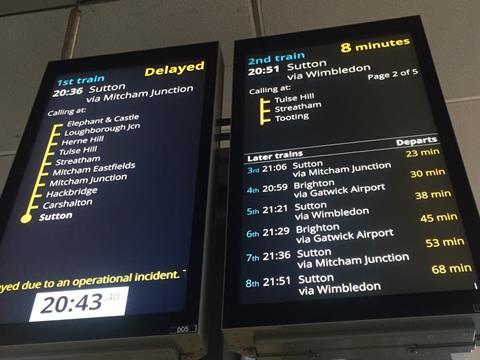 UK: The Office of Rail & Road has required that Network Rail immediately take four actions to improve its timetable planning, after an investigation by the regulator found systemic failings.
There are two annual timetable changes, in May and December. The May 2018 change included the biggest service revisions in recent history, however the timetable had to be rewritten seven weeks after the draft was sent to the industry in November 2017.
In February 2018 Network Rail said it was only able to deliver timetables six weeks in advance, rather than the 12 weeks required under its licence.
ORR opened an investigation into why this had happened. This found that the problems extended beyond Network Rail, and an industry-wide timetabling inquiry with a broader scope was subsequently announced by the Secretary of State on June 4; this is expected to report later this year.
ORR's immediate priority is the successful delivery of the December 2018 timetable. As such, the first of its requirements announced on July 17 is that Network Rail provide a report by August 31 demonstrating how it is running an 'efficient, fair, effective and transparent' process of revising timetables.
Network Rail must also revise its recovery plan by August 31 to get timetables back to being agreed 12 weeks in advance (known as T-12) and publicly report on progress.
Network Rail has been instructed to accelerate progress on ORR-approved plans to strengthen its timetabling capabilities, with a first draft to be supplied to ORR by September 17.
Network Rail must also to speed up decisions on structural reform and provide by September 30 a draft plan for better co-ordination between its infrastructure projects and timetabling functions.
'Network Rail's failings in the run up to the May timetable led to massive disruption, uncertainty and inconvenience to passengers', said John Larkinson, ORR's Director, Railway Markets & Economics. 'Network Rail has acted to bring the industry together to address timetabling issues but more and faster change is needed to provide assurance to passengers.'
Network Rail said it accepted ORR's findings, with Jo Kaye, Managing Director, System Operator, saying 'we are already putting the ORR's required plan into action including establishing new joint working arrangements with train operators to support development of the timetables for December 2018 and May 2019'.