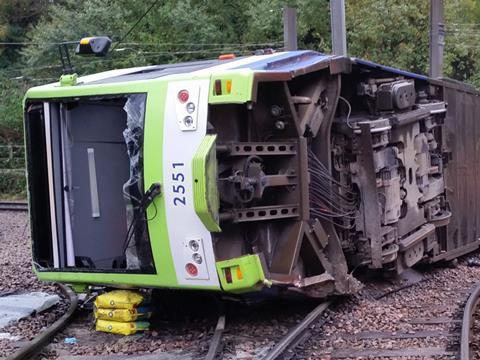 UK: The Office of Rail & Road has announced that it is to prosecute Transport for London, Tram Operations Ltd and the driver over the fatal tram derailment at Sandilands in Croydon.
ORR's announcement on March 24 follows the completion of the investigation into the incident on November 9 2016, when an early morning tram travelling well above the line speed overturned on a sharp bend killing seven passengers.
ORR alleges that TfL and Tram Operations Ltd, a FirstGroup company which operates tram services on TfL's behalf, failed to ensure the health and safety of passengers, so far as reasonably practicable, in breach of section 3(1) of the Health & Safety at Work etc Act 1974.
The tram driver has been accused of an alleged failure as an employee to take reasonable care of passengers whilst employed at work driving the tram, under section 7(a) of the act.
A hearing is to take place at Croydon Magistrates' Court, with a date to be set shortly.
'Following a detailed and thorough investigation, we've taken the decision to prosecute Transport for London, Tram Operations Ltd and driver Alfred Dorris for what we believe to be health and safety failings', said HM Chief Inspector of Railways Ian Prosser. 'We've made a fair, independent and objective assessment about what happened, and it is now for the court to consider if any health and safety law has been breached.'
A TOL spokesperson said 'our thoughts remain with all those affected by the tragic incident. Our commitment to safety remains unwavering and is integral to everything we do. Since the incident, we have worked alongside TfL to introduce improvements as recommended by the various investigations. We note the ORR's statement today and, as we have done throughout, will co-operate fully with the legal process.'
Transport for London will 'consider those proceedings once we receive them', a spokesperson said, adding that 'safety will always be our highest priority and we continue to review our operations and to work with the wider tram industry to introduce any further measures that may benefit the people who rely on our services.'