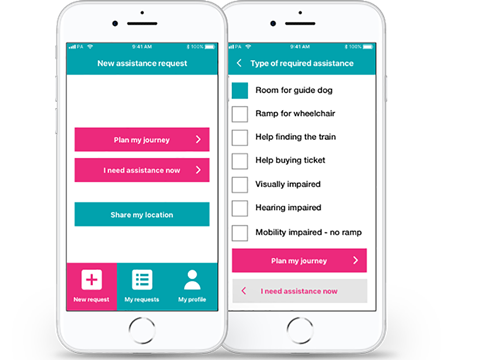 UK: A mobile app enabling passengers with disability to get assistance during their journeys is being tested by Greater Anglia, London Northwestern Railway, West Midlands Railway and South Western Railway ahead of a planned national launch next year.
Developed by Transreport in collaboration with disability organisations including Scope, RNIB, Disability Rights UK, Civil Service Pensioners' Alliance, Blind Veterans UK and Anxiety UK, the Passenger Assist app will allow the person needing assistance to use their smartphone to request, change and cancel assistance quickly.
Passengers will be able to create a user profile, upload a photo of themselves and specify their personal details, such as the type of assistance they need, so recurring bookings become quicker and easier. Staff will receive live information, including key details about the passenger and their journey, so they can provide a better service and accommodate short-notice requests in real-time
Once the trials are complete, the staff version of the app is expected to be rolled out in April 2019, followed by the customer version in autumn 2019.
'This app will be a big step forward in modernising the passenger assistance process', said Greater Anglia's Accessibility Manager Rebecca Richardson. 'The app will give people who need assistance extra confidence when travelling, along with reassurance that a member of staff will be looking after them.'