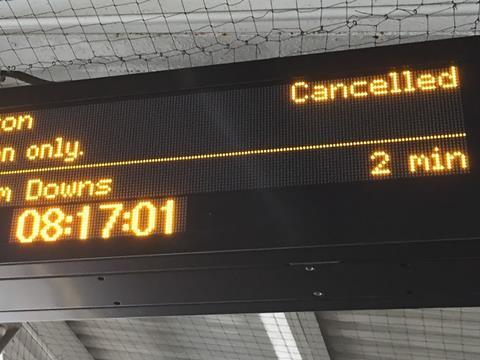 UK: Passenger rail performance worsened in January to March 2022 but punctuality was still better than before the pandemic, according to the latest statistics from the Office of Rail & Road.
Of the 1·64 million trains planned in the three months, 72·4% arrived on time, 89·1% within 5 to 10 min after the scheduled arrival time and 3·9% were cancelled.
Greater Anglia was the only operator to improve its punctuality, and the reliability of most operators worsened.
51·2% of cancellations were attributed to train operators and 16·6% were the fault of track or signalling issues.
In the year to March 31, 73% of trains arrived on time and 89% within 5 to 10 min. This was down 6·7 percentage points compared with the previous year ending March 2021, but up 8·2pp compared with the year ending March 2020.
During the year, there were 6·69 million trains planned in Great Britain, up 9·6% compared with year ending March 2021 and down 14·1% compared with the year ending March 2020.