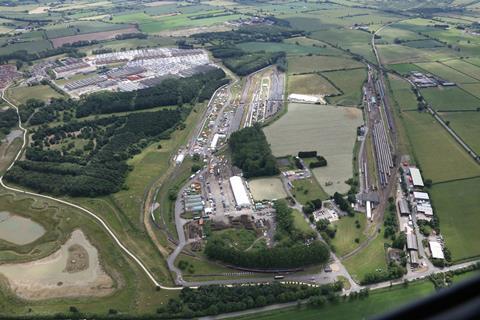 UK: Rolling stock leasing company Porterbrook has taken a 15-year lease on property company St Modwen's Long Marston site in Warwickshire, and will take responsibility for the future direction and development of the rail technology centre on the 55 ha former military site.
The site will transfer to Porterbook by the end of Q2 2021. It has 19 km of storage sidings, a 3 km testing loop, a section of electrified line and light maintenance facilities.
The agreement announced on January 31 would secure the site's long-term future, Porterbrook said, and it plans to work with the rail supply chain, academic bodies and technology leaders from other sectors to 'put Warwickshire on the global map for rail innovation and expertise'.
'The future of Britain's railway rests on our ability to work collaboratively as an industry', said CEO Mary Grant. 'Together we can develop the products and technologies needed to deliver a sustainable railway that benefits all users. Our first step on this journey is securing a significant national asset for the future.'
Porterbook has used the site for development of technologies including its prototype hydrogen fuel cell train, and is 'confident that with right strategic direction Long Marston has huge potential to accelerate railway developments across the board'.