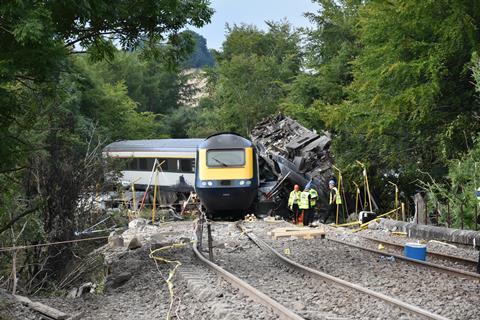 UK: Network Rail and its contractors come in for criticism in the Rail Accident Investigation Branch's report into the fatal derailment at Carmont near Stonehaven. In its report published on March 10, RAIB focuses on the processes put in place to manage drainage at the site.
On August 12 2020, a ScotRail HST derailed and struck a bridge parapet after striking debris which had washed out of a drainage trench. Conductor Donald Dinnie, driver Brett McCullough and passenger Christopher Stuchbury died, and the other six people on the train were injured. The very low passenger loading caused by the Covid-19 pandemic probably avoided more injuries.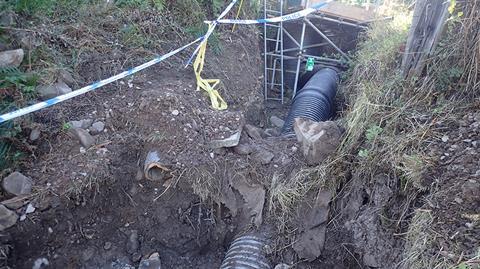 RAIB found that drainage systems constructed by Carillion in 2011 and 2012 had not been installed according to the design drawings, and included a low bund which was not part of the design. Had the original design prepared by Arup been followed, 'it is highly likely to have safely accommodated the flow of surface water', RAIB says. 'However, as installed, the drainage system was unable to do so.'
Discussions between Carillion and Arup where the need for certain design features were questioned by site engineers were not well recorded, and design changes were not communicated to Network Rail. RAIB notes that 'Network Rail's project team were probably unaware that the 2011-12 drain was significantly different from that intended by the designer and therefore did not take action'.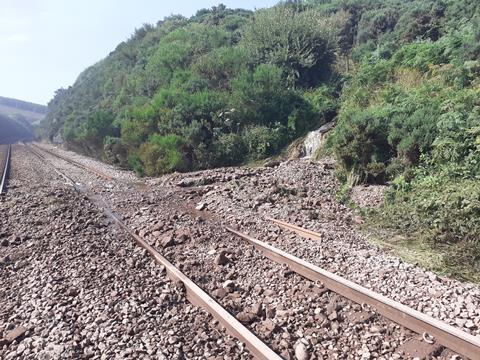 RAIB also found that Network Rail did not have suitable arrangements for 'timely and effective adoption' of mitigation measures in the event of extreme rainfall which could not be accurately forecast. Route control staff, the signaller and the driver were not required to restrict the speed of the train and so did not do so.
In examining Network Rail's processes more widely, RAIB notes that whilst as-built drawings for newly constructed assets should form an essential part of the health and safety file required by the Construction (Design & Management) Regulations 2007, there is no evidence that this file was prepared for the Carmont project. It adds 'furthermore, out of a total of 64 projects sampled by RAIB, more than half were missing any trace of an H&S file. In a sample of 11 drainage projects considered by RAIB, five were not transferred into the asset management system.'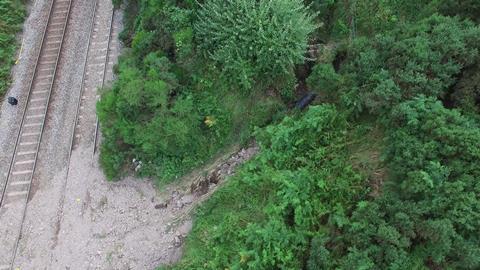 RAIB also notes that concerns over behaviour of rainwater were raised by the adjacent landowner, including the provision of photographs, but there is no evidence of the images being received or action being taken. RAIB adds that 'it is likely that this erosion was visible when Network Rail and Carillion staff inspected the site in March 2013'.
RAIB comments that the HST did not meet the latest crashworthiness standards, and protection for the driver and passengers may have been better in a more modern train. It notes that the MkIII coaches stood up well, but comments that the ageing vehicles have unknown levels of corrosion and it is impossible to determine whether their structures were significantly weaker than when constructed.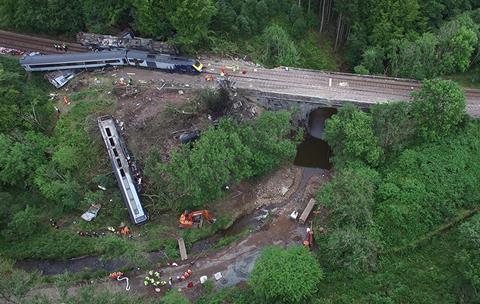 The ability of the bogies to detach fully from the MkIII coaches is noted, with RAIB saying that had they remained attached then their ability to dig into the ballast and rapidly slow the vehicles may have impacted on the behaviour of the coaches during the derailment and reduced the injuries sustained by the people onboard. Had the train been carrying the pre-Covid number of passengers, this would have been a key factor with a significantly higher number of casualties.
Recommendations
As a consequence of the accident, RAIB has made 20 recommendations for the improvement of railway safety.
The areas covered include:
better management of civil engineering construction activities by Network Rail and its contractors;
additional standards and guidance on the safe design of drainage systems;
improved operational response to extreme rainfall, exploiting the full capability of modern technology and based on a detailed understanding of the risk;
enhancing the capability of route control offices to effectively manage complex events;
extending Network Rail's assurance regime to encompass route control offices;
addressing the obstacles to effective implementation of lessons learnt from the investigation of accidents and incidents;
measures to prevent derailed trains from deviating too far from the track (such as fitting equipment to track and/or trains);
addressing train design issues identified by the investigation and better understanding the additional risk associated with the operation of older trains.
'Although railway safety in the UK has been steadily improving over recent decades, the tragedy at Carmont is a reminder of just how disruptive and potentially dangerous Britain's volatile weather can be', said Simon French, Chief Inspector of Rail Accidents.
'The railway industry needs to get even smarter about the way it counters this threat, and to better exploit remarkable modern technology that enables the prediction and tracking of extreme weather events such as summer convective storms. There's also an urgent need for the railway to provide real-time decision-makers with the information, procedures and training they need to manage complex and widespread weather-related events across the rail network.
'No-one wants to shut down the railway every time it rains. Railways need to operate safely and reliably in most weather conditions. If they're not able to achieve this, potential passengers will be forced onto the roads, which are undoubtedly much more dangerous in bad weather conditions. So, there's a balance to be struck and technology can help to get this balance right.'
Responses
Network Rail Chief Executive Andrew Haines expressed 'deep sorrow and regret' at the loss of life, and said 'there are fundamental lessons to be learnt by Network Rail and the wider industry', and is 'important that we acknowledge it should not have taken this tragic accident to highlight those lessons'.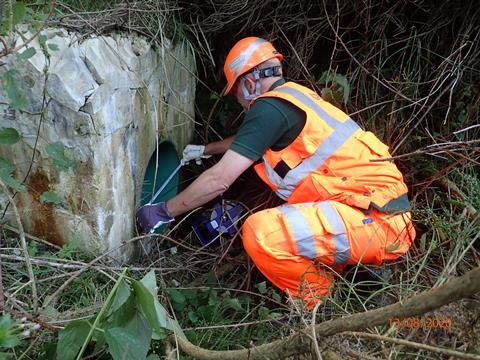 Network Rail has inspected similar locations and drainage systems across country in the 18 months since the accident and Haines said the insight from the RAIB report would help these efforts.
'We also commissioned two independent taskforces led by world class experts to help us better understand extreme rainfall events and how to better manage our cuttings, embankments and their drainage systems', he added. 'We have invested tens of millions of pounds towards improving the general resilience of our railway and how we predict and respond to such events. But this remains a multi-generational challenge and there is still much to do.'
The Rail Safety & Standards Board said it would address the recommendations placed on it in RAIB's report, and share learnings with the rail industry to improve safety and promote better understanding of risk for the future.
Mick Whelan, General Secretary of drivers' union ASLEF, said the 'the failures identified in this report are so bad that we believe this must be a watershed moment in the way we ensure the safety of passengers and staff on our railway network.'
ASLEF called for an immediate review of crashworthiness standards with all rolling stock that does not meet minimum standards to be modified or be given a timescale for withdrawal. It also called for research on the design, specification and effectiveness of lifeguards that would prevent similar derailments, and a review of previous research on secondary impact protection devices for drivers such as seatbelts.
Kevin Lindsay, ASLEF organiser in Scotland, said that 'Carmont represents endemic corporate failure and, for justice to prevail corporate homicide/manslaughter laws should be used to pursue Network Rail and Abellio ScotRail.'
The RMT union said the report showed that there were 'systemic and structural failures in safety caused by fragmentation, poor communication and management'. It called for an 'urgent' rail safety summit including the UK and Scottish governments, the unions, Network Rail, infrastructure companies and operators.
The Office of Rail & Road's HM Chief Inspector of Railways, Ian Prosser, said 'our own joint investigation with Police Scotland and British Transport Police is making good progress and we anticipate handing over the final report to the Crown Office and the Procurator Fiscal Service in the coming months.'
Supporting documents
Click link to download and view these files