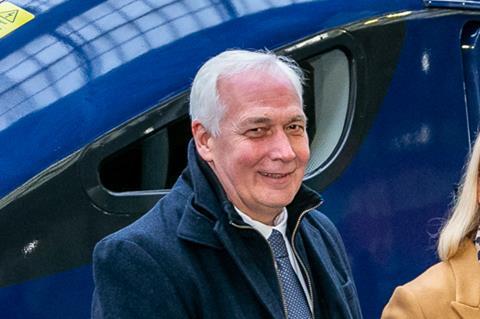 UK: The Rail Delivery Group has announced leadership changes, and a restructuring which it said is designed to make it better placed to support the reform of the rail industry.
Steve Montgomery, Managing Director of FirstGroup's First Rail business, becomes RDG Chair, succeeding Chris Burchell who is to step down as Managing Director of Arriva UK Trains in mid-October and leave the rail sector.
RDG Chief Executive Paul Plummer will retire at the end of this year, in a move which was delayed from autumn 2019 when RDG asked him to stay because it had not been possible to secure the 'right alternative' candidate.
Two pillars
In the expectation that the government will create a 'guiding mind' to bring greater co-ordination to the railway, RDG has been restructured with two 'pillars' which it said 'currently' sit within the same organisation.
The first is Service Delivery, which provides functions to support the operation of the railway such as ticketing systems and online journey planning. This will be led by current RDG Chief Operating Officer Jacqueline Starr, who becomes overall RDG Chief Executive Officer.
The second pillar is Advocacy & Change, which aims to contribute to the development of railway policy while also facilitating cross-industry collaboration. This will be led by current Chief Strategy Officer Andy Bagnall who becomes RDG Director General.
Ola Ogun will continue as Chief Financial Officer and provide services to both pillars, reporting to the CEO. John Thomas, Susie Homan and Robert Nisbet remain Director of Policy, Director of People, Operations & Railway Strategy, and Director of Nations & Regions, reporting to the Director General.
Announcing the changes on September 23, RDG said it would transition to the new structure by December 1 when Starr and Bagnall would assume full responsibility as CEO and Director General.
'With the railway at a critical point, facing as it does the twin challenges of recovering from the covid crisis and major structural reform, strong leadership on behalf of the industry is crucial and the changes being made at RDG will deliver this', said Montgomery. 'Over recent years, Chris and Paul have built the RDG's voice and its capability to deliver key services for the industry and they leave it in a strong position to navigate the future within a reformed system.'