UK: The National Infrastructure Commission published an interim report on July 15 setting out how it will undertake a Rail Needs Assessment to inform the government's Integrated Rail Plan for the Midlands and northern England.
Announced by the government in February, the IRP will set out the sequencing and integration of Phase 2b of HS2, Northern Powerhouse Rail, the Midlands Engine Rail package of local enhancements and other major infrastructure schemes.
Explaining the process, NIC Chair Sir John Armitt said the Rail Needs Assessment forms a key part of the government's plan to reduce regional inequalities, providing 'an opportunity to reimagine the links between major cities' in central and northern England.
However, he acknowledged that the scale of the infrastructure work proposed, potentially including several sections of new high speed railway, would 'require government to make strategic choices. While many of the major projects in the pipeline are long term, communities should be able to experience the benefits of improved transport links as soon as possible.'
NIC's interim report also acknowledges the 'economic shockwaves' emanating from the coronavirus crisis. 'This context means it is even more important for government to harness the power of infrastructure investment to support the recovery where that is in the long term interests of citizens', the report says.
Prioritising projects
At the heart of the Rail Needs Assessment will be a set of recommendations to prioritise particular work programmes. It will include recommended options for scoping, phasing and sequencing delivery of HS2 Phase 2b, Northern Powerhouse Rail and the various Midlands Engine Rail proposals, and it will consider their impact on rail connectivity with Scotland.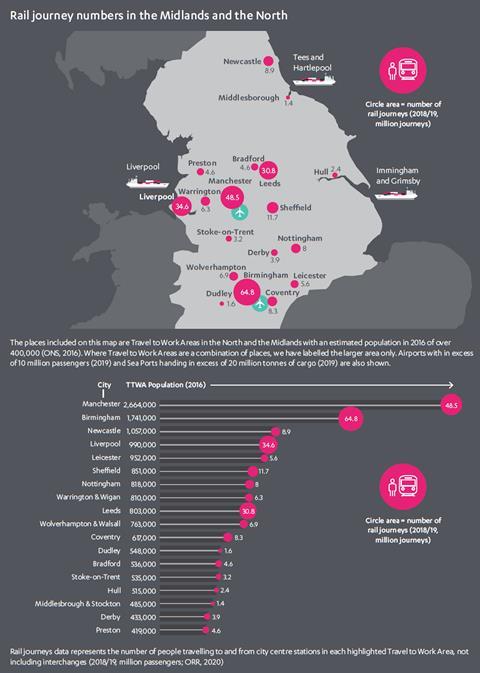 Between them, HS2 Phase 2b, the planned NPR east-west corridor and Midlands Engine Rail would require funding of between £101bn and £139bn in 2020 prices by 2045. This is significantly above the £86bn envelope outlined in the commission's National Infrastructure Assessment for rail spending for this period.
Noting that this sum does not include other major investments, such Network Rail's upcoming TransPennine Route Upgrade, NIC's report concludes that 'the scale of the investment required means that it is unlikely to be affordable, or deliverable, to do everything at once. The proposals that bring the highest benefits should be done first.'
NIC recognises that rail investment brings with it 'a history of overspends', and the report notes that 'government should not be presented with a choice between an obvious yet unaffordable "best" option, and less attractive but cheaper options'. To mitigate this risk, NIC's methodology will use three budget envelope criteria, covering costs which are either in line with NIA assumptions, or 25% or 50% greater.
Alternative methodology
The commission intends to use what it terms an 'alternative methodology' for assessing the benefits outlined in the Rail Needs Assessment. This would take 'a straightforward approach' looking at the potential for rail investments to support 'economic growth and competitiveness, as well as sustainability and quality of life'.
NIC is to conduct market research to explore which service improvements would most meet the needs of existing passengers and encourage infrequent rail users to travel more often. This research will also explore public views on the trade-off between greater short term service disruption and faster delivery of major infrastructure works.
Public and industry consultation work is to continue throughout the summer. NIC will publish the final assessment, including recommendations, in November.