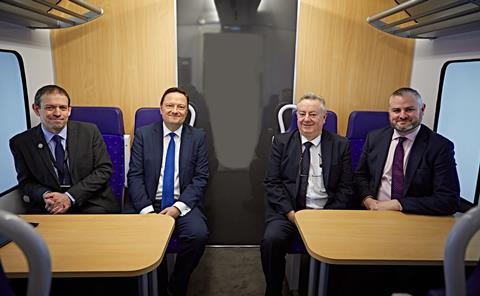 UK: The Institute of Railway Research at Huddersfield University has opened two more laboratories with a focus on full-train motion simulation and the study of pantograph-catenary behaviour.
IRR is the specialist hub for rolling stock R&D within the UK Rail Research & Innovation Network, and has a particular focus on research into interaction between vehicles and infrastructure. The expanded labs were opened by Transport Minister Andrew Stephenson during a visit on February 25.
Pantograph rig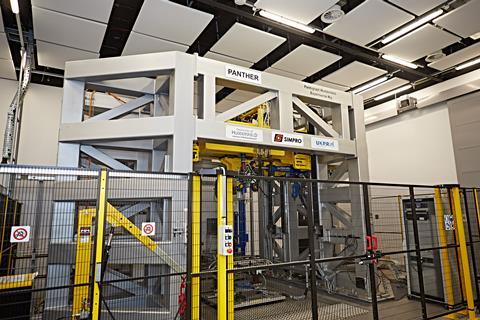 Among the key additions to IRR is 'Panther', a high speed pantograph testing rig worth £3·5m which is unique in the UK.
This full-scale dynamic test rig has hardware-in-the-loop functionality to determine dynamic interaction forces with realistic overhead power supply systems.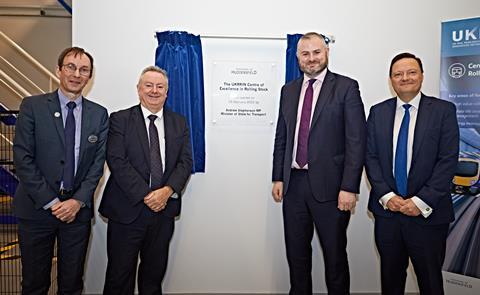 Typical applications will be the development and assessment of new pantograph designs, the optimisation of pantograph suspension systems and the development of novel mechatronic components.
The rig can perform dynamic tests at speeds up to 400 km/h using an electro-mechanical assembly which is not connected to any live overhead power supply. Panther's control system can apply vertical excitations up to 4 g on the contact strips, reproducing in real time the in-service interaction with the catenary. A second actuator provides lateral movement to replicate the stagger of the contact wire with displacements of ±300 mm, a maximum frequency of 1·5 Hz and accelerations up to 2·7 g. The rig is mounted on a six-degree-of-freedom motion platform to replicate train movement and vibration.
According to IRR Director Prof Simon Iwnicki, the Panther rig will facilitate research into a novel pantograph design based on the Inerter technology developed originally for Formula 1 cars. The universities of Bristol and Huddersfield are working with Brecknell Willis and Network Rail to develop a pantograph which would require less maintenance and be kinder to overhead line equipment.
Motion simulator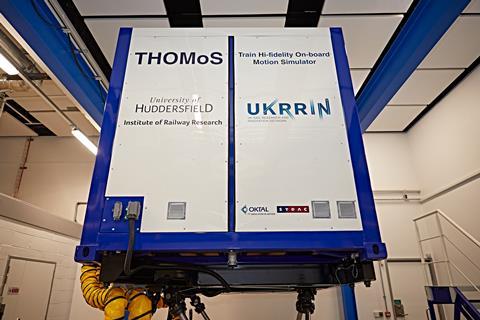 The second major addition is THOMoS, a £1m Train Hi-fidelity On-board Motion Simulator.
Supplied by Oktal-Sydac, the motion platform-based laboratory simulator is capable of reproducing the motions and sensations that passengers experience when onboard a train. The simulator will be used to carry out research into passenger comfort and the effect of various novel vehicle designs.
THOMoS can provide a fully featured passenger experience using motions generated from rail vehicle dynamics simulations such as Vampire, Simpack and VI-Rail. It can simulate any vehicle on any route, including ones which have not been built yet. Passengers are able to sit in an accurate recreation of the saloon with seating for up to four in airline or table configuration.
The seats are tracked, meaning they can easily be swapped for a specific trial of a train interior. The simulator is equipped with 160 km of scenic video to represent the external view, either in rural or urban settings, and it has a configurable soundscape to represent varying traction and track types.
The saloon has HVAC to control interior conditions, and interior video recording and playback is available to capture the reaction of passengers. This can be supplemented by a range of additional instrumentation to monitor the response of passengers and interior fittings, IRR says.