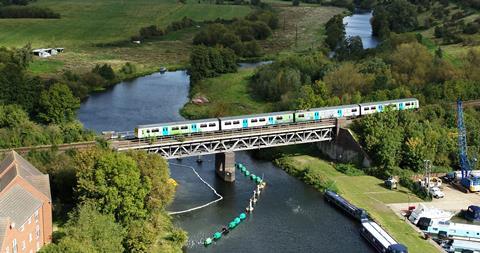 UK: A 10-point plan for a 'green industrial revolution' covering energy, transport, nature and technology was announced by Prime Minister Boris Johnson on November 18.
This includes 'investing in zero-emission public transport of the future', and working with industry to develop low-carbon hydrogen production capacity for applications including transport by 2030.
Railway Industry Association CEO Darren Caplan welcomed the 'bold strategy for decarbonising the UK'. He said 'rail can play a key role in this vision — it is already a low carbon form of mass transit, and can reduce its emissions even further with a rolling programme of electrification and fleet orders of low carbon rolling stock including effective use of hydrogen and battery.'
RIA looks forward 'to working with the government as it publishes its Transport Decarbonisation Plan early next year, and would urge that rail plays a key role in supporting the UK's journey to net zero.'
General Secretary of the RMT union Mick Cash called for more detail, 'not more of the Prime Minister's electric dreams' in which 'endless promises of industrial electricity and hydrogen production for private cars and public transport are casually made'.
Cash said 'public transport and rail freight are far more energy efficient than road transport, so it is disappointing that the plan lacks detail on how these can be maintained and expanded'. RMT called for a 'new deal' for public transport which it said should include 'massively expanding transport operating subsidy, capital investment and capacity to make public transport and freight services more frequent, affordable, attractive and safer'.
Stephen Edwards, Chair of the Urban Transport Group of city region transport authorities, said 'if we are to decarbonise urban vehicle fleets then it is vital that we are at the top table in determining the right strategies for achieving this. From bus depots to charging points, and from smart grids to public information campaigns, we won't be able to electrify and decarbonise urban vehicle fleets efficiently and effectively without city region transport authorities and local authorities being at the heart of the transformation.'
UTG director Jonathan Bray said the expansion of public transport networks should be included in the plan, and 'it is important that longer term and devolved revenue support arrangements are put in place for integrated rail, bus and tram networks that allows those systems to emerge from the Covid-19 pandemic in good shape and able to play their full part in meeting wider decarbonisation goals.'
The Institution of Civil Engineers' Director of Policy Chris Richards said the announcements 'do not spell out what the government's overall plans are for joining-up efforts across departments to tackle climate change'.
He said 'a net-zero infrastructure plan that draws together policy and investment interventions in doing this is urgently required if the UK is to meet its commitments. We expect this to be detailed in the National Infrastructure Strategy and Energy White Paper when they are both published next week.'